Joined

11/13/18
Messages

7
Hi everyone
. It has been a while. Hope everyone is doing well
.
So I recently adopted a female gcc who needed to be rehomed. She is a small gcc (63g) and she came to me quite weak in strength with her right eye really droopy.
Alleged history:
1. She was born with the condition.
2. She is 1 and 1/2 years old.
3. She went to a vet before and they found nothing wrong with her physically.
4. She also seems healthy to me. She eats, drinks, poops normally and she is active. Just that her grips are a little weak.
Progress so far:
1. Brought her to my vet for a physical checkup. Everything seems fine with her heart, her lungs as well as the blood test result.
2. Applied antibiotic gel on her droopy eye for a week. No improvement.
Here are 2 photos of her.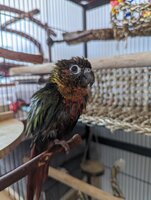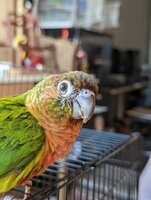 Has anyone encountered this before and what was the solution
?
Last edited: