Rollerblading along the road
Avenue Veteran
Celebirdy of the Month
Mayor of the Avenue
Avenue Spotlight Award
Joined

4/4/17
Messages

4,119
Location
Yep that's right - another Pionus!
Leia's breeder contacted me to ask whether I'd be interested in rehoming one of her 2021 sisters. Very sadly, her original owner was badly allergic to her and couldn't be in the same room as her without struggling to breathe. He had to make the decision to rehome her as the situation wasn't fair on either of them.
Today we picked her up. Continuing the sci-fi theme, my wife has decided to call her Kira after one of her favourite characters from the other Star franchise.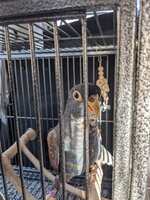 Kira hasn't come into contact with any other birds since leaving her breeder (who keeps a closed aviary) so I feel comfortable in saying that's she's basically been quarantined for six months. Leia has been disease-tested prior to boarding her last summer. As Pam Clark pointed out when I asked her about this, they're both very low risk for harbouring anything.
They're currently both out and being rewarded for calm body language and ignoring each other. I hope they will become friends and enrich each other's life.