Biking along the boulevard
Mayor of the Avenue
Joined

1/13/16
Messages

5,117
Location
Real Name

Suzanne
You scream, I scream, we all scream JUST TO SCREAM!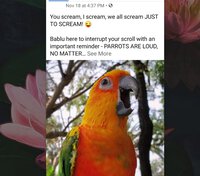 Bablu here to interrupt your scroll with an important reminder - PARROTS ARE LOUD, NO MATTER THEIR SIZE. In fact, some of the smallest feathered friends can cause the most ruckus!
We get a lot of requests, especially near the holidays, from people looking for companion parrots to love or gift to other humans in their lives. While most of these requests are well-intentioned, unfortunately the majority lack an understanding of parrots' natural behaviors as wild animals.
If you're serious about adopting a bird, you should know that two of the most common reasons parrots are rehomed or abandoned are because of 1. their noise levels, and 2. relationship problems that arise from humans expecting them to embody qualities that simply aren't natural to (most) parrots.
They are not inanimate objects to gift, but rather complex companions who deserve a chance to build solid trust bonds with the flock mates with whom they're expected to share a home. Communication is an important part of this flock relationship, making loud vocalizations when they are happy/frustrated/excited/scared/confused/lonely (and generally just alive!) a normal daily reality.
Instead of trying to perfectly package a parrot to fit human imagination, consider gifting books and educational materials about parrots, sponsorship certificates in honor of your loved ones, stuffed animals, bird photography courses, and/or in-person experiences with nonprofits dedicated to avian welfare in your area.