Rollerblading along the road
Joined

5/19/17
Messages

1,552
Real Name

Mark
BB says his name "BB" clear as a bell. And now Cheddar is starting to talk a bit now as well. He's nowhere near as clear as BB is BUT I can tell what he's saying. The first is "Step Up" (wonder where he heard that at?
). The next took a bit to figure out then it hit me. Any time I leave the birdroom I tell them "I'll be right back". And you guessed it Cheddar's favorite saying is "Be Right Back"!
The little stinker is getting to be a real wiseguy.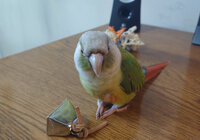 ​