Ri-DQ-lously crazy 4 TAGs!
Avenue Veteran
Celebirdy of the Month
Mayor of the Avenue
Avenue Spotlight Award
Joined

11/21/11
Messages

19,311
Location
Real Name

Jennifer
Item #1:

Custom Long Fleece Preener
Starting Bid: $15 US
Minimum bid increment: $2
Shipping: Included to US/$5 credit towards Int'l
Donated by:
@Jenphilly
CUSTOM handmade long fleece preener. These are made of safe non pull fleece fabric, these are safety preeners, are not tied onto any type of chain, they are braided/tied in center so no links for the bird to get a beak or foot caught in. Huge hit with the shelter babies!!
The winner of this auction will have a preener custom made for them with their choice of fleece fabric patterns/colors and pick of rattle/toy I have in stock. Preener can be made with long strips of fleece for use as a 'cuddle buddy' or a combo of shorter fleece and longer strips at bottom (we've had a medium cockatoo who would hide inside the preener and all you would see is chicken legs!). Option to have some of the fleece pieces knotted for those parrots that like to truly preen and work the fleece! This preener is a longer style for the bigger guys - preener will measure approximately 18" not including rattle or ring. Preener is tied to a cute baby rattle toy.
Entire preener and rattle can be tossed into the washer and dryer!
Shipping to US is included in donation
or
$5 credit towards international shipping.
Sample preeners (see below for available fabric/toys)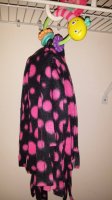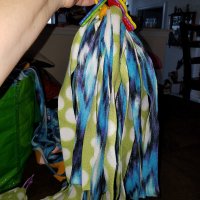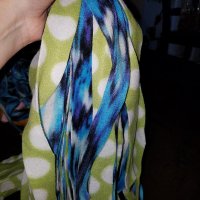 Available fleece: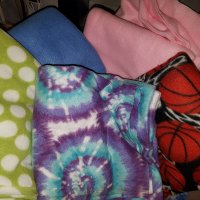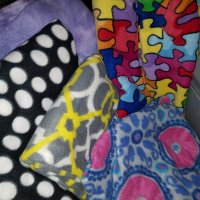 Available toys: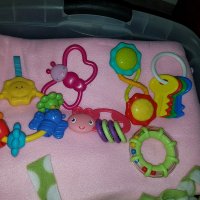 ​
1. Bidding is from Saturday, January 20 @ 9 am ET to Sunday, January 21, 2018 @ 6:59 pm ET. The winning bidder will be the last to bid by 6:59 pm ET.
2. Prices are in US $ for all items.
3. Shipping is not included unless otherwise stated.
4. Bid on this thread.
5. Post questions about this item below.
6. Payment is expected immediately. Please do not bid unless you are serious about buying, donating and can pay at auction close.
7. Please add up your items won from the Winning Bid/Bidder thread. You will not be receiving pm's from me this time. I will put totals at the bottom of the thread eventually but you don't need to wait for them.
8.

Payment for items is to be made using the Donations button (Paypal) here on Avian Avenue. Any shipping fees not included is to be paid directly to the item donor. Please pm the donor and include me (DQTimnehs) for shipping amount and to provide your name and address for shipping.
9. Items will be shipped once the winning bid amount has been paid as well as shipping cost, if applicable.
10. Auction is open to Avian Avenue members. No minimum post count required.
11. Have fun & thanks for bidding!!!
Last edited: