Gigi turned 5 in February! I had never heard of a Linnie on that day I wandered into The Parrot's Nest. I'm so glad Brian convinced me that a Linnie was the bird for me.
Gigi happily eats Roudybush pellets, mixed veggies, Nutriberries and apples. Apparently she's not as food motivated as some Linnies. She has never taken food from my hand and is pretty hesitant to try anything new. Like most Linnies she can hold her food with her foot, looking like a little Amazon. She carries food up to her highest perch and then takes her time eating away. It's super cute and someone told me that Linnies are the smallest parrot that eats that way. She maintains a weight of about 54 grams and is called "robust" by her vet.
I'm told the green series tends to be the larger of the Linnies. Like many Linnies she holds her poop all night and then releases a crazy bomb in the morning. It takes some planning to make sure it doesn't end up on the floor, the sofa or me!
She lives in a 2818 King's cage that I think is the perfect size for a bird of her size. Lots of space for toys, but not overwhelming to move or clean. You access the food sites from the outside which works out well during the hormonal times. Gigi would rather I not touch her cage or her possessions. When I switch out toys or perches I have her on the play gym and she scolds me non stop. Her play gym is from
@Matto
and she loves it and uses it everyday. Weekly I give her a bath in the bathroom. She, like most Linnies, hangs upside down and loves it. She gets seriously drenched through and it's me that finally stops. She has "out time" every afternoon. She flies noisy loops around the living room, spends time on my lap and shoulder and the play gym. It used to be for as much as 3-4 hours with a hew trips back for food. But now she's back in her cage before 2 hours. Although still very active I guess she is aging and that all she wants.
Gigi has some cute tricks that she does on request. When she comes out of the cage she often lands behind me on the back of the sofa. I have it well padded and I ask her to poop. She does and then I ask "Shoulder girl?' and she hops on. If I tap my lap and say "Gimme that girl" she will often fly there. She seems to know so much of what I say. If I ask "Do you want a bath?" she will fluff her feathers. If I ask if she wants an apple she does a laser sound. Her daytime cage is in front of a window with a deck and birds often visit. If I say "Are there any birds out there? then she turns and looks. She has 3 trick whistles, wolf, c'mon dog and another series of eerie sounds that I taught her. Funny enough she often does them when bonding with her love interest toy. Cutest is our nighttime routine. We move her cage to her sleep room, ask her to go to her fave perch and then when lights are mostly out we say "Tail flare?' and she flares a few times.
She is surprisedly quiet for a parrot! If she calls it's for a reason. Tilt the blinds, the sun is on me! I hear you at the refrigerator crisper and I want an apple! Mama, YOU GOT A TEXT!!!
Like many Linnies, Gigi is hand shy. She clearly is very fond of us, but really doesn't want to be touched. She has a poor step unless she's on the floor, in the bathroom or at the vet. Then she's an angel. I've had many birds that love scritches and I miss that. She burrows any chance she gets, in between me and sofa arm, under any little blanket anywhere. Definitely something to know about Linnies so you don't sit on them!
I really can't recommend Linnies enough. Gigi is the perfect bird for us, an retired couple in a condo with little grandchildren that visit often. Everyone loves her and I don't have to worry that she will bite hard or scream and bother the neighbors. And she is seriously beautiful. I love that she is the version of Linnies that is found in the wild. I have my own little jungle girl.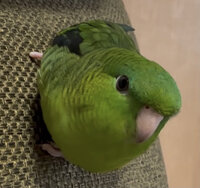 Last edited: