Rollerblading along the road
Mayor of the Avenue
Avenue Spotlight Award
Joined

4/8/18
Messages

2,877
***EDUCATIONAL PURPOSES Only***

Thought I'd share some information of Vasa Parrots during breeding season. The link belongs to Kim Waldie who I have spoken to in the past.
Eve the Vasa Parrot

These are my personal pictures of Java during breeding season. This is for educational purposes.


You can see how dark his cere is and how white his beak is (minus the food).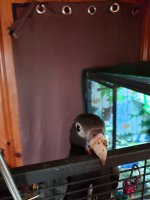 When he's not in season, his beak is a grayish color and his cere is much lighter.



And the hemipenis (not for the squeamish)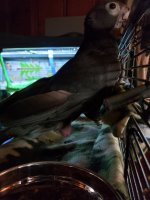 The last one is a male Lesser Vasa parrot with full cloaca extension. This is NORMAL.