Joyriding the Neighborhood
Avenue Veteran
Celebirdy of the Month
Mayor of the Avenue
Avenue Spotlight Award
Joined

2/5/12
Messages

15,449
Real Name

Maddy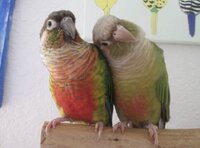 Through no fault of their own, Honey and Presley are looking for a new home. I've been struggling to give all of my birds the care and attention that they so deserve for awhile now. They get the necessities, but that's about all I can manage and it makes me feel awful. And honestly, just the necessities leave me feeling mentally drained. Because of this, I feel like it would be best for all of us to find my ladies a new home.
They are both 13 year old female green cheek conures. They have been together for pretty much their whole lives, so they are very bonded and must be kept together.
Honey is a feisty little lady. She doesn't step up nicely at the moment, due to my lack of handling, but I think with a little work and plenty of treats she could get there again. She isn't a big fan of hands being stuck in her space, and is more than willing to make this fact known, lol. Despite this, she loves attention. She loves to be talked to, and loves to watch what is going on. Just because she doesn't want to be handled doesn't mean she doesn't want to be in on the action.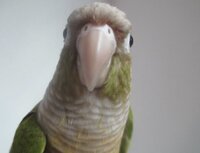 Presley is the exact opposite of Honey. She is very sweet and docile. She will step up and happily hang out with you, especially if she gets to hang out on your shoulder. The only problem is that Honey really doesn't like when you take her away and will try to get in between you and her so that you can't get to her. But if you distract her with a treat, that usually fixes the problem. Pressie also enjoys just being around people and being able to see what's going on.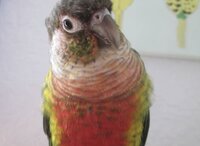 I would really love for them to go to a home where they can be included with their family. I think they would really enjoy just being in a room where people are hanging out and going about their daily business. They are both nosey ladies, and I think this would make them very happy.
They will not come with a cage, except for a small one to travel in.
It would make me feel so much better if I could find them a home with someone here. I love them very much and just want to know that they will be loved and safe wherever they end up. Please message me if you think they might be a good addition to your family, or if you have any questions at all. Thank you.