Rollerblading along the road
Avenue Veteran
Avenue Spotlight Award
Shutterbugs' Best
Joined

1/17/16
Messages

2,259
Since moving house, I've been keeping an eye on Gumtree and the RSPCA page for a bird to fill my now empty flight cage since Anakin passed. I've mostly been looking out for lovebirds, but I've come around to the idea of another species since Luna is pretty independent and hasn't shown any signs of stress or grief. She does get excited when she sees my lock screen photo, which has a picture of her and Anakin (she will run up to it and start talking to him
), but I try not to let her see it and other than that she has been totally fine.
Yesterday I came across a Turquoise parrot via the RSPCA and honestly, I'm in love. He is beautiful.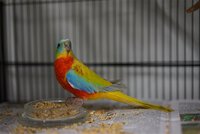 I don't know a lot about them as pets. I think they're probably similar to princess parrots or Bourke's?
Anyway, I'm going to see him when they open again on Wednesday, so fingers crossed it works out and we bring home a new friend.