Sprinting down the street
Avenue Veteran
Joined

4/30/17
Messages

373
Real Name

Pearl
Ive been waiting for someone to make a good, bad, and ugly on these little guys for a while, but I guess I'll start!
Good: Snuggles, snuggles, and more snuggles! These guys are little Velcro birds and crave attention. They will bond immensely with you and I have spent many nights with Delilah "kissing" my fingers (complete with kiss sounds). She really loves being kissed and getting scratches as well, I can't imagine not having night time Delilah snuggles!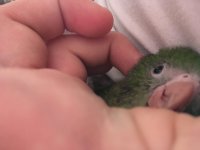 They are extremely playful and goofy. Most toys in Delilah's cage are quickly torn to bits or thrown into her water dish. She uses her feet like a big bird, no matter how big the toy! It's so fun to hear her yell in delight as she's utterly destroying something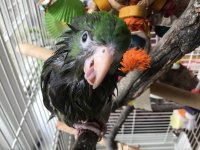 Bad:
They are pretty stubborn, as Porter said! They want what they want! Just today I was nipped badly because I tried to take queen delilah off of her cage. I can't type with her nearby as nothing will disuade her from biting off the keys.
They are nippy, but rarely draw blood. I have only had blood show once in the year I've had her. Their bluffing stage is luckily pretty good, they get a little more nippy at 8 months when they hit maturity, but that's it.
They WILL hide! I would never leave a CWP unattended! Mine once was left alone for 10 minutes and got herself wedged inside a mattress. I've heard of CWPs getting stuck under bookshelf's, in couch cushions, ect. When outside the cage, they really must be supervised, they just like snuggling and being cosy in a enclosed space and that's dangerous if you are not around.
The noise can be a problem, they have very shrill voices and yell a lot, especially when playing. It's like a green cheek conures volume but more often. I'll try and upload a video of Delilah at her loudest.
Other people have had jealousy problems, but I've never had that experience.
Ugly:
Nothing really, I once read in a parrot book that they made "enchanting little companions", and that's exactly right. You do, however, have to treat them like much larger birds, they really need lots of love and attention. If given that attention, you will have a bond for life. Delilah is my ESA and I literally cannot imagine life without her, she is so sweet and loving. Trust me, the noise and huge additudes are worth it!
Last edited: