Sprinting down the street
Avenue Veteran
Joined

8/4/16
Messages

564
Location
Real Name

Reggie
Hi!
My name is Reggie and I have recently become chicken obsessed.
As the thread title says I recently hatched a clutch of 8 Spangled Madigin Claret x Allen Roundhead chicks.
I took pictures the morning they hatched and am going to be taking weekly pictures as they feather out.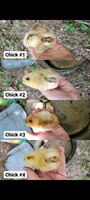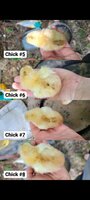 Edited:
I wanted to add that their mom is the Roundhead and she is the biggest, meanest, broodiest momma I've ever experienced. I'm only leaving them with her for a couple of weeks and then I'm going to be taking over, just because I can't stand that bird lol
Here she is the second morning!
She's a pretty bird with a rotten attitude lol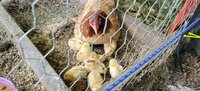 Last edited: