Rollerblading along the road
Avenue Veteran
Celebirdy of the Month
Avenue Spotlight Award
Joined

10/27/15
Messages

3,937
Location
Real Name

Sylvi
Just as the title says, after much thought and talking it over...
I put a deposit down. We're going to be welcoming a new feathered face in the house!
Before the pics, some backstory:
As some of you guys know, we lost Yuka earlier this month. I truly wasn't prepared for this experience but over the weeks, the tears have slowed and I can once again remember the joy and love she brought to me these past 6 years. The memories I shared with her are held close in my heart for always.
Mimi and Yuka grew up together. And while they were never quite close, in fact Mimi mostly only tolerated her, just seeing one another brought each other security and comfort especially when I was away, or just during the day.
These weeks have been full of many flock calls and much more anxiety so I had to take into account not only my feelings, but Mimi's.
And I've come to realize my heart is also ready for another. I couldn't wait to share this with you guys!
One of these little cuties will be coming home at the end of March, possibly beginning of April.
They're almost 5 weeks old! Turquoise Pineapple.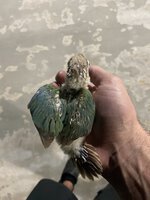 I did have a question for our Conure mutation experts.
Because Pineapple is a sex-linked mutation, does that guarantee the babies are all female? I'm unaware of any splits but the mother is turquoise and the father turquoise-pineapple.