Joyriding the Neighborhood
Avenue Veteran
Celebirdy of the Month
Mayor of the Avenue
Avenue Spotlight Award
Joined

3/21/10
Messages

19,796
I thought this would be a super fun thread. Let's see what everyone has before they spend the weekend buying more goodies! I want to take everything out to show every single thing but at the moment I literally don't have a big enough space lol!
So instead ill just say it's close to 100 toys and probably at least 40 or more perches. This isn't even showing the 11 perches and 8 toys in Tobias's cage. The bin is 32 gallon and extends along that whole side of the wall. My Kings medium travel cage for scale.
As you can see my 1 small Conure is very spoiled but to be fair I've been building on this stock pile for 15 years now it didn't all happen overnight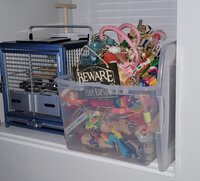 @Mizzely
@Peachfaced
@Teckechick
@Macawnutz
ect lets see those stashes!!