Rollerblading along the road
Mayor of the Avenue
Joined

1/4/19
Messages

3,807
Location
Real Name

Natalie
Sharing my past mice below. I would love to meet everyone else's mice past of present
My partner always had rats. They were always so sweet and amazingly brave and sociable.
I met a mouse once and fell in love. These were my four girls: Isis, Nephthys, Europa, Io. Io almost made it to 3 years old. Nephthys was very very hand tame. I have many cute videos of her running to my partner. She would do anything to find her favourite human. It took a lot of trust building to get to that point. Not all of them were as interested in humans. Isis was very mouse oriented. Part of what made them so much fun was the unique personalities. Europa was the sweet one, love everyone. Io was the industrious one, the master nest builder and organiser.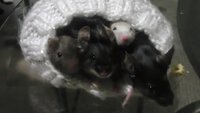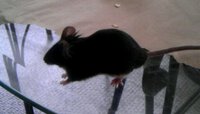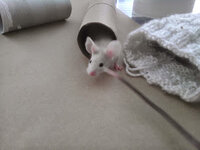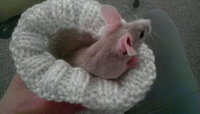 Then after all my lovelies passed away from old age I didn't have mice for a few years.
My next mouse was Sir.Nigel. He was a recuse from the RSPCA. Being a male, he fought other males at his previous home and was given up. Then he was adopted out and fought again so in a day he was back at the shelter. When I read his story I was like, "yep time for another mouse." So I adopted him and he was a solo mouse. Even though he fought with other mice he loved me. He would spend many house in my pocket or snuggled in my hand. He was my little dude. He was 10 months old when I got him and I had him for just over 2 years. He was a very special mouse.
On his way to the pocket.