Sprinting down the street
Avenue Spotlight Award
Joined

9/3/20
Messages

518
Location
Real Name

Martha
I'm getting ready for moving in day but still have a few details to get sorted.
Understanding that the Bourke's really like to fly, I got a double flight cage. It's not terribly tall, but with the divider out it's pretty wide. Unfortunately, with the divider out there is a pretty wide gap between the cages, definitely more than a half-inch. I had two thoughts about how to fill that in.
The first was run thick cotton rope along the channel, securing it with zip ties (is it just me, or does anyone else think pet birds are really just a marketing device of Big Zip-Tie? Seriously, I've used more in a week setting up my cage than I had in my entire life. You may say it's a conspiracy theory, but. . . ). The other idea I had was to fill in the gaps with, wait for it, . . .
gap covers
.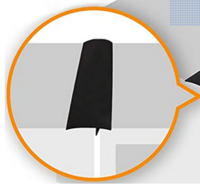 I figure that'd work for the bottom and back gap and maybe for the top with the divider in or out. I don't think it'd be useful to block the front with the divider in, but I can probably just solve that on an as-needed basis with zipties.
Thoughts? Other, better ideas?
My other question is that I understand that Bourke's sometimes like to get their inner-RoadRunner freak on and bop about on the bottom of the cage. Does that mean they'd be happier with the paper on top of the grate? I understand that'd mean I'd have to be even more diligent about cleaning out their cage, but I know I should do my best to make their environment as satisfying as I can for them.
Oh, and one more question - this night frights thing. Should I get them a night light or just make sure there's a little ambient light in their room?