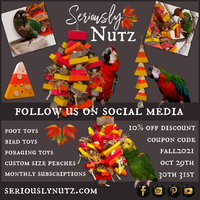 Seriously Nutz Sidewalk Sale Info

As always in stock items will ship out right away.
Custom perches, toy boxes and 7 day wait items could be delayed.
Some seasonal toys will run out of stock and not be available for wait.
If you are making multiple orders or are participating in the RLS and do not wish
to pay shipping multiple times, you are more than welcome to choose "invoice shipping later" at checkout.
Once your order is completely packed and ready to leave you will be invoiced for the exact shipping charge.
We will be listing items in the RLS!
It will be Saturday early evening and I will
update this thread when I know the approximate time.
The RLS items are new and will not be listed on the website.
If you have any questions or requests for RLS times let me know!
Happy Shopping!

​
Last edited: