Seriously Nutz Spring SideWalk Sale Information!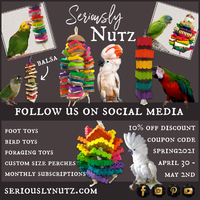 Yah, Whatever!


We are doing our best to keep up with orders before the sale
so please be patient with orders placed during the sale.
Please expect extended shipping times.

A few new toys will be added over the weekend
and our RLS items will be done Saturday afternoon/evening.
If you need to add an item to your order you may choose "invoice shipping later" at checkout.

Questions? Ask.


Happy Shopping!!!

​