Ripping up the road
Administrator
Avenue Veteran
Celebirdy of the Month
Mayor of the Avenue
Avenue Spotlight Award
Joined

4/15/10
Messages

47,741
Real Name

Matthew
Our "Mayor of the Avenue" award is presented to a member who exhibits the qualities that distinguish them to be an upstanding credit to the Avenue, a loving, informed, conscientious and caring bird parront and an all around good neighbor.
I am happy to announce that Rain Bow is September's Mayor of the Month.
I enjoyed reading your interview, and am sure that everyone else will as well!
1. What kind of birds do you have (age, species and names)?
Age: 27-29 years

Species:
Mexican Red Headed Amazon

Name:
He actually has 2 names:
Shadow AKA My Buddy

My Love: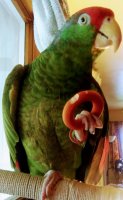 2. What got you interested in birds?
Buddy was left to me after a family member died. I made a life decision to protect & guide him through his life. So, the answer to your question is:

Buddy, got me interested in birds.

& Buddy decided that...
I'm his
& almost everything else in my life...
is his
You can't really own a bird, (IMO)
but... they really can own you!
3. What have your birds brought to your life?
Joy, happiness, anger, sadness & at times utter exhaustion. Buddy has done positive things to my overall mental health, that no other pet has ever been able to do, & it just makes me
him more. I am very Thankful he & I were thrust together. He knows if I'm having a bad day. He will get me to laugh by telling me in bird talk a story, until he gets me to laugh really hard!
4. What have you learned from sharing your life with your birds?
Patience, & slower movements mostly in my arms & hands. Buddy used to be afraid of me & would try to bite me through his cage when he was young. Any bird I ever met, in my whole life seemed to want to injure me. I believe it was because I have that Type A personality of get the job done & wing it quickly.
This process made my physical movements be very fast, which I now understand, will spook any bird. Needless to say, since I made it a point to become slower moving, all birdy's seem to like me better.

5. What's one birdie memory that will stay with you forever?

When waking up Buddy & uncovering his cage in the morning, his excitement to see me is best explained like a child on Christmas. I
it when I exclaim "Good Morning!" & I get that widening tail flash. It's that widening tail flash, that I'll never forget.

He's my
Angel.
6. Where is your birds main living area?

My home! It's really his home too, so why shouldn't it all be his nest (cages are for safety)!!! He has specialized areas that are just his when he's not riding or sitting atop of one of us. His basket, his SS nest cage, & his travel/sleeping cage. He lives in the main living areas in the house where we are living too.

7. Did you change things in your home to accommodate your birds and if so what kinds of things did you change?

Yes, all the bird safety items like changing all my cookware, getting air cleaners, getting rid of candles & most cleaning supplies, no fly strips for the fruit flies, etc...

All to care for this feathered friend that...
weighs less than a pound!
8. Are you involved in any kind of bird related group or activities?
AA is my home,

& I can't imagine being anywhere else!

9. What is the one luxury item you would love to have for your bird(s)?

It's a coin toss to choose between an Aviary & a Celltei carrier. I can't seem to make up my mind so I don't know what to save for...


Too many savings jars & not enough cold hard cash!
10. Is there any bird that you dream of owning and if so why?
My husband & I are not sure that we could get another fid trained like Buddy.

If we did decide to get a new fid, we'd look for a rescue, more specifically a special needs bird. One where there's a low chance of ever being adopted. Ex: Disabled or in need of regular medication.

Now as for a purely dream bird...
One that gives love & receives love
& we already have Buddy!

11. Describe a typical day with you at home with your birds.
Normally, my husband gets Buddy up in the morning these days. After everyone is up I make breakfast for them & they eat together. Buddy is so polite that he actually excuses him self from the table when he's done eating. He walks away, doesn't fly & gets on his basket, wipes his beak & goes dukey (poop). Buddy then spends time w/ my husband & plays. Around 3 PM they take a long afternoon nap together, Buddy on his chest.

When it's time for Buddy's dinner I get him up from his nap & then it's time for us to do our things. We prepare & eat dinner together. After this he goes & spends a little time at his cage. When he's finished we spend time training & playing. Right now, we are working on spoon training. Buddy is afraid of the spoons, so it's been a very slow going process. We are also working on flipping cups over, this may take forever because he's not really interested in it. Only time will tell if he picks this up or not.

Here are some of our play time activites:
Read kids books: I think his favorite so far is...
Ten apples on top by Dr. Seuss
Sing (whistle together)
Play rougher sometimes
Ex: w/ an item like paper towel tube he likes me to bump his beak w/ it so he can tear at it.
Practice Flying
Throw balls & play catch
There are also times he just sits on the arm of the couch w/ me & chews his wood toys
12. What have you learned about owning birds that you would like to share?

Education, & more education!!! You can never think you've learned it all when it comes to birds. Every time I think I'm confident & I'm getting to the point where maybe I can take a rest from all the reading, & posting. I realize I doubt I'm ever going to learn it all.
13. If you knew then what you know now about birds, what would you do differently?
I wouldn't have left Buddy alone & in the quiet house immediately after the traumatic experience of loosing "His" 1st human. I left him alone grieving! I was so dumb... I was afraid to move him immediately, because I feared it may kill him. I didn't know much about birds, & thought the sterotypical thought of "they just hang out in cages" applied. Now, looking back, I realize how scary this all must've been for him.

I wish I had done better, moving him to our home sooner or 1 of us staying w/ him at least for that 1st night.
Thank goodness he forgave us!

14. What other hobbies do you have?

I've done many different crafts in my life. Now there's not much time for that. That time is now spent dying wood, stringing beaded wood, & building toys w/ straws & dowel. Let's not forget prepping food for a bird, (which is an art form all on its own). Then constant researching, reading & posting in AA.
So for me, my hobbies are not much different, only the materials to create, have changed.

15. Anything else you would like to share?

Always adopt if you can! Rescues are filled with birds, cats & dogs. Why continue to add to all that by getting a new baby pet? Your fids will give you at least double what you put into the relationship. It's almost as if they know you went the extra mile.
Not sure why I'm telling all of you this!!! I will always advocate adopt don't shop, but I do understand when someone feels that they want a pet w/ a brand new start.

for this honor
to share Buddy's & my story with you!
Last edited: