Biking along the boulevard
Avenue Veteran
BINGO!
Celebirdy of the Month
Mayor of the Avenue
Avenue Spotlight Award
Joined

7/3/16
Messages

7,747
Location
Real Name

Sarah
September 2019 Feathered Estates Highlight


I am very pleased to announce this month's showcased member SquawksNibbles

​
1~ What kind of birds do you have and how many birds did you design your setup for?
The setup is for my two little budgie boys, Skittles and Nico.
This is Skittles.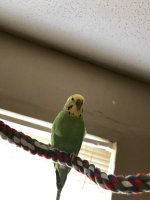 And Nico.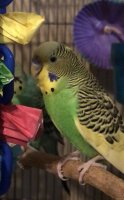 2~ Is your setup for a handicapped bird?
Nope!
3~ Are there any budgeting tips you discovered while doing your setup?
Well, I've learned that even the most simple household items (that is, if they're bird-safe) can be used to create super fun and exciting bird toys. Several examples are: cardboard (from boxes),popsicle sticks, cardboard egg cartons, phone books (some of the bigger guys love to shred this I know), cardboard paper towel rolls, old curtain rings, and there are a lot more that aren't coming to mind. I love taking simple items and turning them into something that my birds really enjoy. I try to always be on the lookout for new homemade bird toy ideas. I love shopping for bird toys online and in stores, but having several homemade toys can also be good as it saves money, plus you get to design the toy the way you know your birds will like!
Another thing: it can be really good to reuse toy parts from old toys, if possible. A lot of times I've found that a store-bought toy is falling apart or has simply just been used enough to where the birds have lost interest. If there are any parts intact, then I'll remove them and save them for my own toy making.
4~ Is your setup changeableorstationary and do you add or make changes continually or do things stayprimarily as is?
I try to keep things as interesting as possible by changing things occasionally, but I mostly justwatch the birds and see how they act. If I find them bored of/not using their toys I'll switch the toys out. So it really depends on how the birds are acting with their setup and toys. That's reallywhat determines when I make changes to their setup. But generally, yes, I do like making changes to their setup often.
5~ Where did you find your materials if you made it yourself or where did you purchase the setup and do you have favorite places to purchase safe toys and/or supplies that you find reliable?

Some of the toys in the setup are made by me, but I also have plenty that I've bought online or in stores. When I buy online I mostly use the
Nutz
, and Things for Wings for their toys. When shopping online for bird toy parts, California Bird Nerds, A Bird Toy, andMake Your Own Bird Toys are my go-to. And as mentioned earlier I use bird-safe household items in my homemade bird toys, too! They're pretty easy to get.... and free, too!
I bought the birds' cage online at Amazon and I love it! Good-sized cage for a decent price! As for the big bird play stand, that is actually a clothes drying rack I found on Amazon that I turned into a play stand.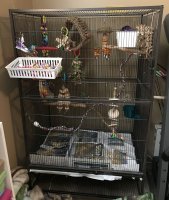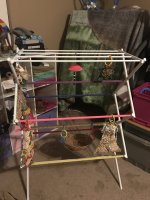 6~ Do you have a favorite item that you bought for your setup?

Well, I love the 5 Knot Cotton Rope from Seriously
Nutz
! I actually just recently got around to hanging it up (finally! I know I should've put it up a while ago!) so the birds aren't used to it yet but I sure am hoping that they use it quite often in the future! Seagrass mats are a favorite purchase around here! A while back I made a hut from seagrass mats that I'm happy with. The birds have only gone in it a few times, but they do love chewing on the seagrass material and also enjoy climbing it. It's not being used for what I intended it for but it's still getting some pretty good use!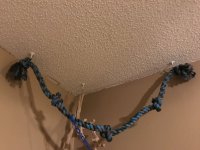 A couple other of the birds' favorite toys are the Sweet Roll from Seriously
Nutz
and the Mini Watermelon Sampler toy from Things for Wings (they've already completely destroyed the watermelon part
). I've had to buy several of the Mini Watermelon Samplers because they love it so much. And since these two are their favorites they are also some of my favorites.
And then I love the clothes rack that I bought on Amazon for a bird play stand. It's still a work-in-progress even though I know I've been working on it for a while. A lot has just happened recently so I kinda slowed down on everything. But I'm still working to make improvements to their whole setup and really working to get back into finishing it all up soon!!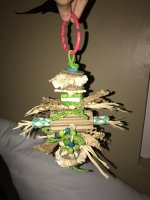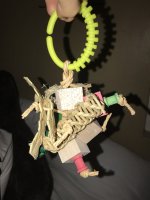 7~ If you made any DIY toys what is your bird(s) favorite and were there any?

The birds love the seagrass that I mentioned. I remember a while back before I made the current one, I had a very simple seagrass platform-kind-of-thing but it wasn't nearly as enjoyed as the hut is now. Plus, the platform didn't even look really good. So I would definitely consider that a failure. I've definitely had more DIY toys I made in the past where I just put a bunch of random bird toy parts together but they never got any use plus they also didn't look very well put together.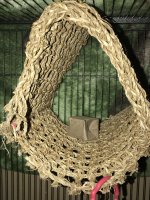 8~ Did you incorporate into your setup any foraging toys and how did your bird(s) take to them and was age or inactivity a factor?
I have included a lot of foraging toys in my birds' setup. I just recently added this one so the birds haven't really played around in it yet. They have come out and stood on it a few times - that's progress!
Right now the above foraging toy is just filled with that paper (that I'm already sure that the birds will love once they get used to this toy) and random toy parts. I also want to hide some treats in there, as well.
I like hiding seed and treats in certainspots for them to find and eat. For example, balled up paper filled with seeds and other treats are put throughout the cage. They have to find them, and then tear through the paper to get their goodies.
The birds used to be pretty scared of new toys or items in their cage. It would take them a really long time to get used to them. But they have gotten a lot better with getting used to changes in their cage, and I guess you could say age has helped that because as the years have gone by they've experienced different, new things in their setup and each time they've realized that nothing I put in the cage is going to attack them.
9~ What difficulties did you encounter, if any, and how did you remedy them?
One big problem I had recently was I couldn't figure out exactly how I should go about hanging everything up above the birds' cage, but my wonderful father helped me out with that so now it's all set up and done!
10~ What do you like least about your set up (if anything)?
That it isn't as big and good and exciting as I want. I so wish I could provide them with more play space. I'm constantly on the lookout for ways to add to their setup, though. I also just have been dealing with a lot of stuff in life as well so I feel like I've been doing changes to their setup very slowlyrecently, which I feel awful about because my little guys deserve better.
Just been super busy with stressful life stuff. I know their setup isn't amazing but I do my best.
11~ What do you like most about your setup?
I like how I was able to create the play space that is right above their cage. The birds don't really like going too far from their cage so I feel like this was a good way to give them more space to hang out and play.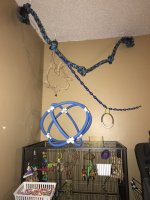 12~ Did your bird(s) take to the setup right away or did they approach it tentatively needing time to adjust and do you feel their age was a factor?
My answer for this question is basically the same as my answer to question eight. The birds have taken time to adjust to their setup every time I've made a change, but I have seen a difference in the length of time it takes for them to adjust. Over the years, they have become more quick to adjust to changes in their setup. But they always take time to get used to new toys/items in their setup. Some things they get used to quicker than others.
13~ Any future renovations planned?
Absolutely! Like I said, I feel awful that lately I haven't been able to give as much time to renovating the birds' setup. There's still a lot that is a work-in-progress, and like I said earlier, I'm always on the lookout for new ideas! I need to add some toys to the hangout space that is above/on top of their cage. And I'm still trying to think of different toy ideas to add to their play stand. I recently went through the birds' cage and took out old toys so I'm still in the process of adding new ones to their cage. But yes, definitely still some work in progress with the birds' setupand I will most likely post about itall as I do make progress!
Last edited: