September 2018 Feathered Estates Highlight


I am very pleased to announce this month's showcased member
AkasyaEllric!
​


1~ What kind of birds do you have and how many birds did you design your setup for?
I have 3 birds, Ollie, Diggle and Slade. My set up has kind of grown and changed as we added them, no forethought went into it at all.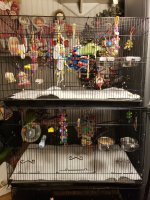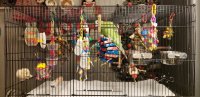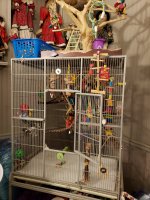 2~ Is your setup for a handicapped bird?
Nope
3~ Are there any budgeting tips you discovered while doing your setup?
Just the typical ones that most people say. Make some of your own toys and look for sales. I buy a lot of their stuff when it goes cheap.
4~ Is your setup changeable or stationary and do you add or make changes continually or do things stay primarily as is?
Changeable. The cages don't usually get moved around that much but can be. I rotate toys about every 2-3 weeks to keep it interesting for them. I make sure to throw a known favorite in there in a different spot each time as long as I'm not out of them.
5~ Where did you find your materials if you made it yourself or where did you purchase the setup and do you have favorite places to purchase safe toys and/or supplies that you find reliable?
Cage wise I got the little guys cages from Petco and Slade was initially in one as well. His cage I got used off of the facebook marketplace. It took a long time to find a decent used cage that wasn't disgusting or a complete rust bucket. Favorite places to buy toys are Lil Monsters Bird Toys, Cheeky Chirp Toys and Bonka Toys. Slade is the only one who really goes through toys (wood) so I cut him some myself but keep a steady supply for him around.
6~ Do you have a favorite item that you bought for your setup?
I love the java tree on the top of Slade's cage. I've always wanted one and a local store had them for only $50!
7~ If you made any DIY toys what is your bird(s) favorite and were there any failures?
I don't think anything I've made them have been favorites, Slade just loves the wood I cut that I put on his skewer, so any toy I make with that he goes right to. No real failures since I don't put anything I find unsafe in their cages or let them play with. Plus I switch the toys to someone else so someone is bound to like it!
8~ Did you incorporate into your setup any foraging toys and how did your bird(s) take to them and was age or inactivity a factor?
Yes, definitely! I have a few different ones and started out with the Intro to Foraging from Lil Monsters! I just did it because I know how important it is to their mental health. I have more toys I switch out with as well once again. Here are a few I have for them.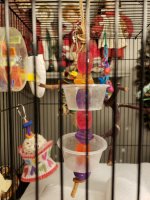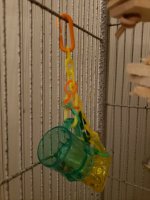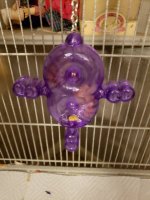 9~ What difficulties did you encounter, if any, and how did you remedy them?
The only issue we had was them being able to open the doors, and I took care of that with zip ties and clothespins. The zip ties are pointy side out as well along with being cut flat with the connector so they are safer.
10~ What do you like least about your set up (if anything)?
I want the same size cages for Ollie and Diggle eventually. I know they are adequate but I want them to be much bigger. They both utilize every section of their cages so the more room the more fun I can put it in for them.
11~ What do you like most about your setup?
I love that the 2 smaller cages stack. I don't have a ton of room right now so it saves space and gives them the largest cages I can fit currently. I like that Slade's cage is right beside the couch and he's a lot happier there than he was in a stack with the other 2.
12~ Did your bird(s) take to the setup right away or did they approach it tentatively needing time to adjust and do you feel their age was a factor?
Ollie was terrified of his first cage and then these cages as well. He's kind of a chicken about anything new though. Diggle was happy as a clam in the bigger cage. Slade was nervous in his bigger cage for maybe a day then started exploring and completely came out of his shell. Best thing I ever did for him, other than adopt him and give him a chance!
13~ Any future renovations planned?
Yep! I want to get Ollie and Diggle larger cages and might even upgrade Slade again at some point. I also want to put board around the bottom of Slade's cage because he doesn't seem to like things being below him and I hope it will help him feel more comfortable. I'm always looking for ways to change and improve on what they live in!
Last edited: