Sprinting down the street
Avenue Veteran
Joined

10/5/18
Messages

534
Location
Real Name

Irene
Hi there everyone!
It's been way too long since I've posted.
I need help with my cages.
I have these two cages now: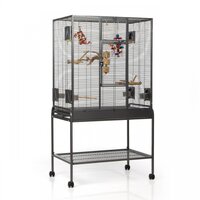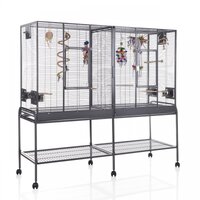 Since I've seen a picture on here (years ago) Ive been playing with the idea to kind off make a flat roof on top of the cage that I can attach lamps to. Like LED bars that you use in a kitchen for instance. I can make a frame that rests on the cage, attach a board on top of that and attach the lamps on to that. A little bit like an aquarium.
Right now we have very bright lights hanging from the ceiling. But that makes it permanent on where I place the cages. And with something on it the whole roof there is a little less stress about landing on cages. Plus you can keep things on there that you don't have to move when I cover the cage at night (like their foraging box and water fountain).
I really like to see examples or hear different ideas.
If you like my idea I really like some tips on that too if you have them. Like what are the best materials to use.
I'm looking forward to all the replies!!