Joined

9/10/20
Messages

747
Real Name

Miranda
I have had to make a very tough decision and put a lot of thought and effort into trying to find a way to make things work out and unfortunately rehoming my flock seems to be the best option all around. When you take a pet into your home you never think things will come to a point where you have to rehome and I thought that I would be able to make things work no matter what, but for the well-being of my flock I feel this is best. I am incredibly busy completing the last few semesters of my BA degree and working full time, this gives me little to no extra free time to give them the attention and out of cage time I feel they deserve. And I do not see my life getting any less busy for many years to come as I get into my career field and eventually start a family with my partner. I am located in Missouri, not far from St. Louis and would be willing to transport to other nearby states, help arrange transport or meet halfway etc. I will not let them go to just anyone, I want them to go to someone with avian experience who will give them the proper care. They all have nice cages, and they will be rehomed with their cages and perches, food etc.
My current flock consists of one green cheek conure (assumed female), one DNA female cockatiel, two male budgies and one female budgie. I'll list individual descriptions and pictures below.
Jade:
Normal green cheek conure. Assumed female but never DNA'd. She is around 4 years old now. I got her as a rescue of sorts from a bad situation from someone off of craigslist, she had multiple bacterial infections when I got her and we think she had been abused in the past as she has "anxiety" signs to certain things (such as baseball caps) and was extremely hand shy. She is still pretty hand shy, but once she trusts someone she will take one of her favorite snacks (nutriberries) from your hand, with more time I think she could be hand tamed.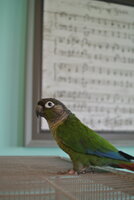 Milo
: Milo is a 2-year-old female cinnamon cockatiel who is hand tame and extremely personable. I got her as a baby and she has been one of the most personable birds I've met. She loves head scratches and shredding sola. She also enjoys playing with rings and small balls. She has laid eggs in the past, but with proper discouragement it is stoppable once she begins to get broody.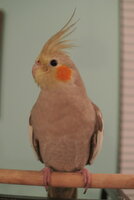 Percy
: Percy is a 3-year-old male blue budgie. He is a happy little guy and that has earned him his nickname "the bluebird of happiness" or "happy little bluebird" he is hand tame and will step up. He is a smart little dude and when I was working with him consistently, he would recall from across the room and learned tricks like tunnel and would go under my hand to the other side, he would hang upside down on his rope perch for another trick.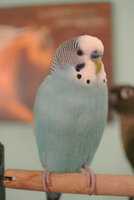 Riley:
Riley is a 3-year-old male yellow and green budgie. He is also hand tame and will step up especially if you have millet. He also will recall when worked with consistently and worked on the same tricks as Percy. Both Riley and Percy enjoy mahogany pods and sola as their toys of choice.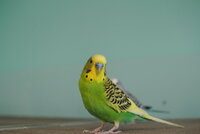 Hazel:
Approximately 2-3-years-old female yellow budgie. Hazel was found outside in the cold last year by a coworker of mine and was not in the best shape, after not being able to find her owner I took her in. She unfortunately got into a fight with a previous female budgie that I had that she had gotten along with in the past and that fight resulted in the loss of a few toes. Hazel is not super hand tame, but will occasionally step up onto your finger for millet.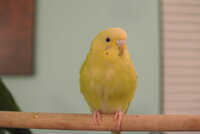 If anyone has any questions or interest, feel free to ask questions on this thread or personally message me. It pains me to do this, but I just really want the best for all of my feathered babies.