Joined

6/8/18
Messages

87
Hey everyone! I just made my very first parrot treats and they turned out AMAZING - decadent but healthy, cookie-like but tidy, firm but soft... And they're so cute! II can't believe I came up with these myself!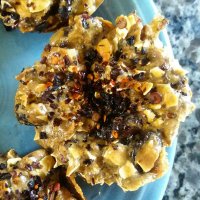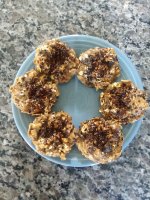 Recipe:
Sweet and Spicy Peanut Butter Calci-Yums
5 eggs shells, washed, sterilized, and finely crushed
1 heaping tablespoon peanut butter
1 handful gently crushed raisin bran
¼ cup shelled, unsalted sunflower seeds and walnut pieces (or other seeds)
¼ cup raisins (or other dried fruit)
2 eggs
Crushed red pepper and / or cayenne pepper flakes
Combine all ingredients except for raisin bran and mix well. Add raisin bran and gently fold in to mixture. Fill muffin pans halfway with mixture, sprinkling crushed pepper on top for color. Bake at 225 for 35 minutes. Refrigerate until served, discard uneaten portions at end of day.
Enjoy!
Last edited: