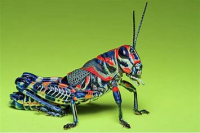 I never knew this critter existed prior to coloring it on paper. Really pretty.
Very recently I have been looking at insects through different eyes. Some of them are so very colorful and worthy of grayscale coloring. I enjoyed learning about and coloring the Rainbow Grasshopper. Dactylotum bicolor, also known as the rainbow grasshopper, painted grasshopper, or the barber pole grasshopper, is a species of grasshopper in the family Acridid. It is native to the United States, Canada and northern Mexico
The one with the green background is the real grasshopper.
Last edited: