Rollerblading along the road
Avenue Veteran
Joined

5/28/14
Messages

4,140
Location
Real Name

Lauren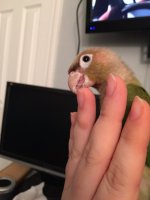 I don't know much about beaks. Do they peel? Ollies seems to be peeling on the bottom, can you guys see it in this picture?
Also, does it look overgrown a little?
Sorry for the million questions, just concerned cause there is a flaky part on the bottom. He's eating normally and doesn't seem to be in pain when using it.