Rollerblading along the road
Avenue Veteran
Avenue Spotlight Award
Shutterbugs' Best
Joined

1/17/16
Messages

2,246
My boyfriend surprised me with a small trip within my holiday to the Wairarapa in NZ, and took me to a wildlife sanctuary there called Pukaha.
Pukaha Mount Bruce
It is predominantly birds, and is situated in a forest that they use as a sanctuary and release site for native birds. They do a lot of work in reestablishing populations of the more endangered birds, such as the takahe. They have a few advocacy birds in aviaries, but there are huge populations of some pretty neat birds flying around wild. I loved it.
My favourite bird, the kokako. I didn't get any great photos of her because I was distracted with playing with her, but o found a video with her whistles and talking (she can say kokako in her sweet little voice) with the man who raised her as a chick on YouTube. Apparently they imprint so strongly on humans if raised be them, that they can't ever really be released in the wild, to the point where this girl even got stressed out when they tried to give her a friend. She was super friendly, and would hop (they aren't great fliers because of their smallish wings) over to you and let you give her scritches.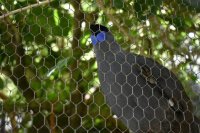 New Zealand wood pigeon. I've seen these in the wild a lot in NZ. They're such little fatties, it's amazing they can fly at all.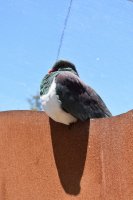 Antipodes parakeet. There were about 6 of them playing around when I was there.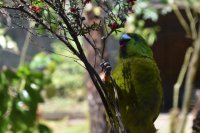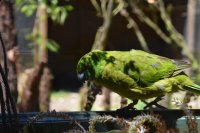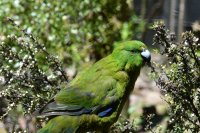 Kākā parrot. These guys were wild parrots that had stopped by for a scheduled feeding that the sanctuary does with bits of corn. Not as many as usually because the girls were all nesting. Very cheeky things!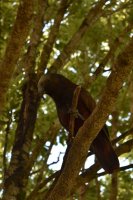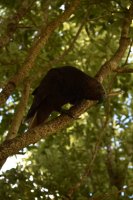 Kakariki. The had orange and red capped ones in some aviaries.