Walking the driveway
Avenue Veteran
Joined

8/3/14
Messages

236
The pigeon is fine so far! It has moved to snuggle up against the heater.
Don't leave it on the porch!
Don't worry, I brought the bird inside for the night. Don't want any cats getting at it again! I left it on the porch during the day because it was warmer outside, the AC was blasting. I made sure it didn't overheat, though. Will be doing the same today.
Can you call vets in the area and see if any of them take wildlife? My vet will care for them at their cost if you surrender the animal.
I'll be trying that today. I'm not in high hopes but who knows.
Neopolydec ophthalmic solution


I appreciate that you are making so much effort with this poor bird.

For future reference, (and concentration can vary) but opthalmic solutions of dexamethasone are generally a 1 % solution and will yield 1 mg of dexamethasone per milliliter of solution. The dose of Dex for a bird is 1 mg/kg. Even just a dropper full is a potential overdose. (I'm not chastising the OP, she's making the best of a bad situation) I just know that these threads come up when people google and do want to be clear that dosing for a bird requires the right type of knowledge. Also, as a general rule, Birds should only be given steroids for 48 hours. I just want to Emphasize that people should be intimately familiar the meds you're dealing with prior to administration.

I hope things work out for this little guy!
Wash his wounds with warm soapy water,,,"DAWN" is best but whatever you have will do. Can you get silver sulfadiazine cream or Neosporin spray/ cream? Anything. Bacitracin cream? Even aloe vera ...is better than nothing .Try dipping his beak in the water, or hold the water up to his beak to get him to drink..please dont leave him outside, bring him in and put him somewhere away from cold and drafts
He really needs Antibiotics if its cat wounds, is there a rescue near you? Dexamethasone is a steroid, used for inflammation, but you need a gram weight for exact dosage.. I know your trying, thank you for helping, let us know how he makes it through the night. I saw the DEX is a liquid, mmmm, cant hurt for the night..
Sorry about that last response, I just blurted it out before knocking out for the night. I didn't realize providing in-detail information would be very useful. I'm not trying to chastise anyone either. I'm not very good with words, and adding a language barrier and stress to that mix doesn't end well.
My mother has a PhD in chemistry/technology and knows her way around medicine(especially corticosteroids as I'm frequently on them), but I still did research before using the solution on the pigeon because birds have fragile systems, etc.
Here are the websites I pulled info from:
https://www.alims.gov.rs/ciril/files/lekovi/pil/515-01-5919-12-001.pdf
This is the information for the product used. I can translate for you if you're interested, since Google Translate stinks when it comes to Slavic languages.
But the most important info: It's an ophtalamic solution(thought eye-dropper meant it was for eyes but apparently not) of neomycin-sulfate(3mg/ml) and dexamethasone (1mg/ml). The whole bottle has 10ml.
Neomycin-sulfate, an antibiotic, is the primary ingredient of Neosporin as well as this solution. Because of the dexamethasone the solution isn't supposed to be used in case of a fungal or viral infection, but because the danger is pasteurella bacteria from feline saliva we used it.
Bird veterinary drugs and dosages
Drug dosage for birds. Says 1mg/kg of Dexamethasone for IV administration and no longer than 48 hours. This means that's the amount a bird can take injected into its bloodstream. I was a bit iffy on this seeing the solution's concentration, but my mother said topical application is very different, as only a little bit could possibly enter the bloodstream. We used only a drop to a few drops on each wound, definitely not the full bottle.
I also found info that higher doses can be used in case of trauma/shock, but only for a short time(no more than 24h) I don't remember where I found it though.
We used neo/dex only as an emergency measure, not something we would use repeatedly.
I googled dexamethasone overdose as well, just to be safe. Corticosteroid overdose can be ugly, but the form of the corticosteroid used is important. The most common serious overdoses come from pills and injections. Though from what I've seen Dexamethasone overdose isn't expected to be deadly, especially if it was topical application.
Though what I didn't do and should've done is weigh the bird to find the exact dose needed. Even so, I don't think the amount we gave it could hurt.
http://www.homingpigeon.com/article/Dosage.html
Drug dosage for pigeons. Doesn't have any info on neomycin or dexamethason, but I thought it could be useful to share if anyone wants to bookmark it.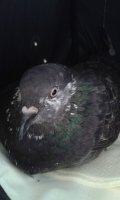 The little one this morning. Right now I'm feeding it my birds' seed mix, but later I'll go out to find some actual pigeon feed, and Neosporin, if nobody wants to take it in.
Last edited: