Squawk Talk!
Avenue Veteran
Joined

7/19/12
Messages

5,772
Location
Real Name

Gerard
INTRODUCTION
I really don't consider myself to be much of a photographer and 18 months after getting my first DSLR I still struggle to reconcile the concepts of white balance, luminance, hue, colour space and saturation, and how one effects and interacts with the other. So given my extremely limited knowledge of the principles of photography, I had a nervous chuckle when Saroj asked me if I'd kindly put together a flight shot tutorial. I wouldn't leave you in the lurch my friend so I hope what follows is helpful to you and others here.


Attempting to photograph birds in flight is challenging at the best of times and you'll need to acquire certain skills and equipment to produce results that you're happy to share with others. 10% will come down to your choice of camera, 10% will come down to your choice of lens, 10% will come down to your ability to set them up, 10% will come down to your choice of accessories (tripods, processing software, etc), 10% will come down to luck, and 50% will come down to acquired skill through practice. We'll briefly touch on the first 5, before we deal with the last and, in many ways, the most important one, "acquired skill through practice".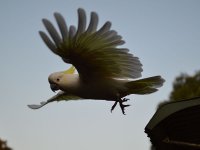 Cockatoo at Dusk - Taken with a Nikon D3200 Camera & Nikkor AF-S DX 35mm f/1.8G Lens. Aperture f/1.8, ISO 100, Shutter Speed 1/1250sec, Hand-Held, Continous Servo Mode, Focus Tracking With Lock-On Engaged.
CHOOSING A CAMERA
The brand of the camera is not particularly important as most DSLR manufacturers produce various models suitable for beginners all the way through to professionals. The camera you choose should have an ASPC or Full-Frame sized sensor, electronic viewfinder, have a minimum maximum shutter speed of 1/4000 second (some can operate at 1/8000 second) and the ability to be operated in auto, semi-auto and manual modes. While it is not essential, I also recommend that you try to find a camera that has a "Custom Mode" where you can store your favorite flight shot settings.

You don't need the range-topping model to produce great results. The shot of the cockatoo at dusk was taken with Nikon's base model D3200 DSLR and Nikkor AF-S DX 35mm f/1.8 lens in Shutter Priority Mode. It doesn't get much more basic than that. Now I use a Nikon D600 and while it's by no means a cheap camera, it's a long, long way from Nikon's D3 & D4 series of professional cameras.

There are a myriad of other features that DSLRs come with, but for the sake of keeping the thread relatively simple I'll defer these to the potential buyer.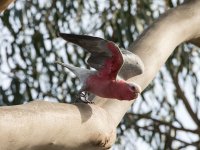 Take Off! Nikon D600 Camera & Nikkor AF-S 80-400mm f/4.5-5.6 G ED VR Lens. Aperture f/8, ISO 1250, Shutter Speed 1/1600sec, Tripod-Mounted, Low-Speed Continous Servo Mode, Focus Tracking With Lock-On Engaged.
CHOOSING A LENS
Just as there's a large range of DSLR models available, manufacturers also produce myriad of lenses to compliment them. While DSLRs will become obsolete within a few years, lenses generally don't and a smart lens purchase may well see you use that very same lens for many years.

The lens you choose should be based upon the application you have in mind. If you are going to be photographing birds at distance then you'll need a long zoom (80-400mm f/4.5-5.6) or telephoto lens (400mm f/2.8). If you're going to be shooting at close range then you'll need a short-mid length zoom (24-85mm f/3.5-4.5) and if you'll be shooting indoors in average to poor light then a large-aperture prime lens (50mm f/1.4 or 50mm f/1.8) might be your best bet.
Single focal length lenses will generally produce the sharpest results, while zoom lenses will provide a greater range of focal lengths, but the compromise is that the images produced are generally not quite as sharp from zoom lenses. Telephoto lenses such as Canon's or Nikon's 400mm f2.8 are truly enormous, heavy and wallet-sapping pieces of equipment, while zoom lenses are generally more compact and weigh less. Most zoom and telephoto lenses provide an image stabilization feature that can be turned on for those with shaky hands like me.
Little Corella In Flight.
Nikon D600 Camera & Nikkor AF-S 80-400mm f/4.5-5.6 G ED VR Lens. Aperture f/5.6, ISO 360, Shutter Speed 1/1250sec, Tripod-Mounted, Low-Speed Continous Servo Mode, Focus Tracking With Lock-On Engaged.
I made a compromise. I use a Nikon AF-S 24-85mm f/3.5-4.5G for short-range and some indoor photography and a Nikon AF-S 80-400mm f/4.5-5.6G ED lens for longer-distance work. I also sometimes use a Nikon AF-S 50mm f/1.4G prime lens for work in low-light, short-range situations. There are also a range of lenses produced by third party manufacturers such as Sigma, Tamron and Tokina that may also be worth investigating.
Finally, most lenses have an optimum operating aperture where they produce their sharpest images. For my 24-85mm zoom the sweet spot is at around f5.6, for my 80-400mm zoom it is at f8 and for my 50mm prime it is around f2.8.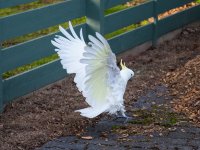 Touchdown! Nikon D600 Camera & Nikkor AF-S 24-85 f/3.5-4.5 G ED VR. Aperture f/4.5, ISO 3200, Shutter Speed 1/1600sec, Hand Held, Low Speed Continuous Servo Mode & Focus Tracking With Lock-On Engaged.
SETTING UP YOUR CAMERA
This section assumes that you have already purchased your DSLR and lens, or lenses, read the instruction manual and understand how to access the camera's menu and configure the settings. Please note that you may have a different model to me and therefore you may have access to more or less menu options than I do. Be aware that you may need to put the camera into Manual Mode to access some menu options.

The absolute simplest way of taking flight shots with your DSLR is to put the camera into Shutter Priority Mode. You set an appropriate shutter speed by turning the dial and the camera looks after everything else automatically. Use a shutter speed of 1/1250 second for large birds such as cockatoos and macaws and a faster shutter speed of 1/2000 sec for lorikeets, linnies, etc.

Most DSLRs are capable of so much more though. Here are some of the settings I use that are mostly specific to the D600 that assist with flight shots.

Setup Menu

Auto Image Rotation – Turn it on. Will insure that your images are always displayed the righty way up, even when you upload them to AA.

Save User Settings – A specific place that allows you to call up custom settings you make to the Shooting Menu for later use by switching the mode dial to U1 or U2. It's very handy for storing your flight shot settings.

Shooting Menu

Role Played By Card In Slot 2 – The D600 has 2 memory card slots. Up until very recently I used slot 1 for RAW files and slot 2 for JPEG files. Now I'll just shoot in RAW and I set it into Overflow mode. So once the first card is full the camera will automatically move to the second memory card in slot 2.

Image Quality – I just set it to RAW now.

Image Size – I always set to large. Most flight shots will require some cropping so the more pixels the better.

NEF (RAW) Recording – I set this to ON and Lossless Compressed. This gives me a reduced file size storage without loss of image quality. I also set it to 14 bit for maximum colour information.

White Balance – Since I'm shooting rapidly moving subjects that will quite often move sunlight to shade at rapid pace, I just leave this setting in auto.

Auto Distortion Control – Looks for and corrects barrel and pincushioning distortion caused by flaws during the manufacture and/or design of the lens. While I leave this feature on, be aware that by having it enabled it will reduce the camera's memory buffer. Given that birds travel in flight very quickly, I rarely get more than half a dozen shots in a burst anyway so I leave this feature switched on. It's one less thing I need to attend to in post production.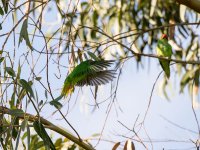 Musk Lorikeet. Nikon D600 Camera & Nikkor AF-S 80-400mm f/4.5-5.6 G ED VR Lens. Aperture f/8, ISO 1400, Shutter Speed 1/1600sec, Tripod Mounted, Single Servo Mode, Focus Tracking With Lock-On Engaged. Small birds adept at climbing through the foliage that take short, fast flights are so hard to obtain a focus lock on. It took me two and half hours and 83 attempts to get this one clean shot.
Custom Setting Menu

a1) AF-C Priority Selection – This setting determines if the camera will take a photo with the subject in or out of focus in Continuous-Servo Auto Mode. I set mine to focus.

a2) AF-S Priority Selection – As above, but in Single-Servo Auto Mode. I like my subjects to be in focus so I set mine to focus. The camera will not fire unless the camera has a subject in focus.

a3) Focus Tracking With Lock-On – Allows the user to determine the amount of time the camera retains a focus lock on a subject that becomes hidden by another object. A bird that flies behind a large tree trunk for example. I have mine set to 3.

a7) Built-In AF-Assist Illuminator – This setting drives me bonkers. The poor light inside my home means I need it switched on for the camera to accurately determine distance for focusing, but it does spook my birds. It's the reason I don't take more photos of my own birds.

b4) Centre-Weighted Area – Determines the amount of area used by the camera to calculate metering of a subject. I set mine to the smallest 8mm when shooting birds.

d1) Beep – Just turn it off!

d5) CL Mode Shooting Speed – Controls the frame rate (frames per second) the camera can fire in Continuous Low Speed Shooting Mode (CL on the Release Mode Dial). I set mine to 3fps. High Speed is always 6fps.

d6) Maximum Continuous Release – I leave it set to 100. I'd like the buffer to hold as many images as possible when I'm going for broke in Continuous Low or Continuous High Modes. Note the buffer on a D600 can hold about 10 RAW images with the other settings I have switched on, but it is usually more than enough.

f2) Assign Fn Button – Spot Metering. The theory is that spot metering will insure the bird is exposed correctly. I keep forgetting to use it, so it defaults to setting put into the Centre-Weighted Area. LOL!

I then set the desired aperture for the lens I will be using
I leave ISO in Auto.
I set the shutter speed to 1/1250 second (adjust to 1/2000 second for small birds)
I then save the settings in U1 or U2.

When shooting I have the camera's Mode Dial in either U1 or U2 and the Release Mode Dial in either CL (Continuous Low) or CH (Continuous High)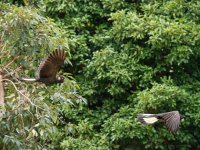 I Love Our Native Australian Fauna. Nikon D600 Camera & Nikkor AF-S 80-400mm f/4.5-5.6 G ED VR Lens. Aperture f/8, ISO 3200, Shutter Speed 1/1250sec, Tripod Mounted, High-Speed Continuous Servo Mode, Focus Tracking With Lock-On Engaged.
Please note that these settings are based upon the available options found within the menu of a Nikon D600/610. For further reading on setting the options on this camera I recommend purchasing a book called Mastering the Nikon D600 published by Rockynook. It doesn't actually teach you how to master the camera, but it will explain the hundreds of menu options available, what they do, how to alter them, their application and when to use them. Mastering the camera will only come with thousands of hours practice and experimentation. Nikonians Press have published one of these books for most Nikon DSLRs. I'm sure someone produces a series of books for Canon DLSRs as well.

If you're relatively new to photography and want to come to grips with your new DSLR I also recommend the Camera Model - From Snapshots to Great Shots series of books published by Peachpit Press. Not only does it take you through concepts such as white balance, exposure, etc, but it also gives little projects to do so that you can come to grips with each concept. I like this book as it's written in a format that anyone can understand.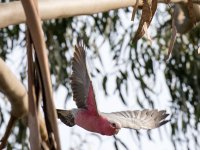 The Next Frame! Nikon D600 Camera & Nikkor AF-S 80-400mm f/4.5-5.6 G ED VR Lens. Aperture f/8, ISO 1250, Shutter Speed 1/1600sec, Tripod-Mounted, Low-Speed Continuous Servo Mode, Focus Tracking With Lock-On Engaged. This is actually the next frame after the previous Galah photo shown here.
ACCESSORIES & MISCELLANEOUS EQUIPMENT
Accessories can be junk or they can assist you with taking better photos.

Tripods – Despite the advent of things such as Image Stabilisation, High-Speed Shutters and Continuous-Mode Shooting, I still find my tripod to be an indispensible tool and use it whenever I can. I find that being able to keep the camera level allows me to be able to quite often come up with a series of usable pictures that were shot in Continuous Mode. If you get one please use one that has very little flex in the legs as the whole idea of using one is to provide a rock-solid stable platform. Get one that has a quick-release plate so that you can just lock into place without having to mess around with screws. Patiently holding 6 pounds of camera and lens still while waiting for a bird to move can become pretty tiring pretty fast. For this reason alone I love my tripod.
High-Speed SD Cards – Get one with a write speed of 90MB/s or faster and a 32GB capacity. The faster you can empty the camera's buffer, the faster you can fill it up again. Essential for blasting away in High-Speed Continuous Shooting Mode.

Spare Battery – 'Nuff said!

Lens Protection Filters – The better quality ones by companies such as Hoya are OK, but you will produce slightly better results without them. They will protect the front element of that new expensive zoom lens though.

Giottos Rocket Blower – The best $10 you'll spend for blowing the dust off your lens. Get the big one.

Adobe Lightroom 5 – Along with a tripod this is the best accessory you can buy. The difference using this post production software of photos shot in RAW format will simply astound you. It's as good as buying the next camera model up in the range along with a better lens as well, but for all less than $200. Yes it really will make that much of a difference to your finished photos…and no I'm not exaggerating. If you are not familiar with using this software, I also recommend purchasing Adobe Photoshop Lightroom 5 Classroom In A Book to get you off to a flying start. You can acquire it through Peachpit Press or Adobe Press. I've just finished this book and I was staggered at what a difference it makes to my finished photographs. Highly recommended.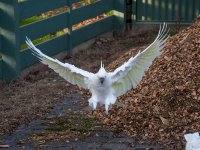 Inbound! Nikon D600 Camera & Nikkor 24-85mm f/3.5-4.5 G ED VR. Aperture f/4.5, ISO 3200, Shutter Speed 1/1600sec, Hand-Held, Low-Speed Continuous Servo Mode, Focus Tracking With Lock-On Engaged.
LUCK
Every other section of this basic tutorial is designed to reduce the element of luck, however, you won't be able to completely eliminate it. You can go to a known bird watching site only to find that there are no birds there, or on the other hand there may be a desirable species you've never seen before. The birds are on the wrong side of the tree in relation to where the light is coming from, but they could be down at the water hole having a drink without an obstacle in site. The birds are mainly active when around dawn or dusk when the light is really poor, but someone came around to feed them in the middle of the day. Bad weather, but the wind allows the bird to hover in the air. Essentially, the element of luck refers to conditions beyond your control. In other words do the best you can with cards you're dealt, because you're bound to learn something new. Remember the glass is always half full. You get the picture…or maybe you don't.
ACQUIRED SKILL THROUGH PRACTICE
I'm sure my weighting of 50% to this aspect of photographing birds in flight may have raised a few eyebrows, but if you asked someone such as Derek then there's a very good chance he might even give this aspect an even higher rating. You can have the best camera in the world matched to the best lens. You can have the most pre-eminent avian photographer configure the camera's settings just right for optimum performance. You can have the camera and lens mounted upon the world's best tripod and gimbal. You can have ideal lighting on a bright sunny day and birds absolutely everywhere. However, if you can't predict the birds next move and know when to push the button then all that goes before it is wasted. The single most important factor in photography is the person taking the picture.
No one can do the practice for you that is required to capture birds in flight, but I can give you a few pointers as to how to make that time spent practicing more productive. If you live near the beach go down and start photographing seagulls. I recommend attaching a 50mm lens, put the camera into Shutter Priority Mode and and set the shutter speed to 1/1600sec. The reason I suggest you use a 50mm lens with birds like seagulls at close range is that it will provide you with a challenge to get the bird in the frame. You can't just take the easy way out and photograph everything at 24mm and hope there are enough megapixels for you to rely on a satisfactory crop taken at distance. You will also need something to attract the birds to you. Try to get your back up towards a cliff or other obstacle so that the birds need to approach you from the front. Bring the camera up to your eye and partially depress the shutter button to get a focus lock on a bird and start blasting away. You'll be surprised how difficult it can be get and keep your chosen bird in the frame while you shoot. It doesn't take very long before you've shot 150 photos and I can assure you that you'll have a great time too. If you don't live close to the beach, there's the ducks at the park lake or by the creek, etc.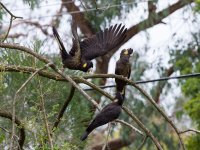 Yellow-Tailed Black Cockatoos. Nikon D600 Camera & Nikkor AF-S 80-400mm f/4.5-5.6 G ED VR Lens. Aperture f/8, ISO 3200, Shutter Speed 1/1250sec, Tripod-Mounted, High-Speed Continous Servo Mode, Focus Tracking With Lock-On Engaged. Every dog has its day and this was mine. When it all comes together the birds seem to leap off the screen.
Observation is also a good practice. If you spend 20-30 minutes watching, you'll notice that many birds use established flight paths. You'll also find this true of your birds in the house. They might fly down a certain side of the room for example. Try and place yourself in those flight paths and attempt to get a focus lock on a bird approaching from the distance. Then in Continuous Shooting mode see if you can shoot a series of in focus shots. When you think you've got a focus lock on an approaching bird hold down the shutter release button and listen to it go click, click, click. It's a really satisfying feeling to see a series of flight shots all in focus.
Don't be disappointed if after your first practice session only approximately 1 in 20 shots appear usable when you bring them up on the computer. The next time you go out you'll reduce that to 1 in 12 and the ones you do think will be acceptable are of so much higher quality than those in the first session. Through repeated practice you'll eventually get that down to an average of 1 in 3. Once you get a handle on things it will pay you to do a session every couple of weeks or you'll find you'll get rusty quite quickly. Use it or lose it.
HAVING A GO
If this somewhat basic, if not errant, guide to taking flight shots helps just one member take one great flight shot to publish on the forum so we can all go Ohhhhh, Ahhhhh, then it has repaid the effort to create this thread tenfold. If it helps just one member rediscover their love of photography or fall in love with their birds all over again then it has repaid the effort to create it a hundredfold. Get out there and enjoy the outdoors…it'll do you good.
There are some wonderful photographers on this forum and their work is just as good as anything you'll see in any Natural History Book or magazine. Even with a basic DSLR and lens, you too can shoot some extraordinary flight shots, so get out there, enjoy yourself and give it a go. Happy Shooting.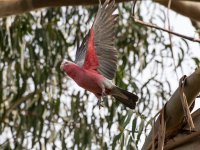 Up Up & Away! Nikon D600 Camera & Nikkor AF-S 80-400mm f/4.5-5.6 G ED VR Lens. Aperture f/8, ISO 3200, Shutter Speed 1/1250sec, Tripod-Mounted, Low-Speed Continuous Mode, Focus Tracking With Lock-On Engaged. OK, so maybe a dog can have more than one day, lol.
Please note I have used descriptions of Nikon products, because that is what I use and am familiar with. I am not sponsored or paid by Nikon to use or promote their products, but if Nikon wish to shower me with money and free products then please do, I'm so unashamedly open to bribery. You can also take wonderful photos with products from other manufacturers such as Canon, Sony, Pentax and Olympus, but they haven't bribed me either. Maybe there's a message there.