Joined

1/21/21
Messages

5
Real Name

Sara
Hey guys, so I wanted to ask about something that happened to my cockatiel, but I can't find any mention of it online. Long text ahead!
Before my current cockatiels, I had another cockatiel pair Nonie (male) and Peaches (female) - contrary to my current cockatiels, I bought these 2 from a pet store, since I didn't knew of any breeders that lived nearby.
They were used to a seed diet, but I made it a point to convert them to pellets, which they did quite nicely, however that's when the problems started.
First Peaches fell ill, and her blood tests weren't looking good either, the clinic I was going to at the time couldn't keep her overnight since they only functioned as a clinic, not a hospital, so they gave me the medicine and I was left to my own devices. Unfortunately even with the medicine, she stopped eating completely and died shortly after; I remember she was mostly pooping water which is what prompted me to take them both to the vet - I understand this was likely a problem she already had when I purchased her, and not the pellets fault.
These were the pellets I was feeding them btw, it's all the pet stores seem to sell here (NutriBird):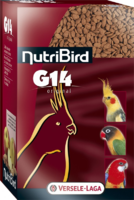 My issue is with Nonie though, he kept eating pellets and it seems sometimes he would throw up, but it wasn't often, so I didn't think much of it since his blood exams were fine. In the meantime I changed vets, and I decided to try the pellets they were selling - I figured they were probably better than the pet store pellets, if it's a vet that is selling them.
These were the pellets from the vet (Psittacus):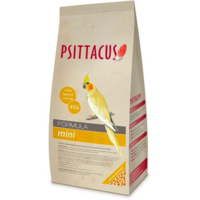 Nonie loved these pellets, they even had this apple scent to them and they werent dyed with crazy colours. However I noticed his vomiting became more and more common, and his crop also started getting abnormally big, it got to a point where he would throw up every single day, and he'd make a mess of himself and the cage.
Here's a photo of him, before he started getting debilitated, you can see how gigantic is crop was.
He was getting quite sick, so I agreed to leave him at the vet's for a whole week (this vet I currently go to functions as a hospital for exotic pets) in order to see if they found what was wrong with him and if he got better.
One week went by, and they said they couldn't find anything wrong with him, only that he overeated so much to the point of vomiting, so they told me to only feed him a certain amount of pellet grams a day - this of course lead to a very unhappy and hungy bird who would keep screaming at the top of his lungs the whole day.
From that point on, he just kept getting worse and worse, he was very debilitated and he really looked like he was going to die, he looked as debilitated and frail as Peaches did before her death - so I thought to myself "hey if you're going to die, I'm going to at least let you eat your favourite things before you go" and I gave him pellets and a ful bowl of seed.
He ate so many seeds it was unbelievable, his crop was so big, it was stretching like crazy; this was at night time so we then went to sleep shortly after this.
The next day, I had to go work, and my dad told me Nonie looked perkier and more lively when he woke him up, so I decided to keep giving him seeds to see what would happen. He kept being on a seed diet and his crop gradually went back to normal and his vomiting just completely stopped, he was a completely different bird now, he was back to his lively self.
I asked the vet about this of course, and they were just as confused as I was and said they never saw anything like it, and that pellets aren't supposed to do that to a bird.
I also asked the breeder I know, about it and he also says he doesn't like pellets and didn't seem very surprised when I told him about my sick cockatiel - he mainly sticks to a diet of seeds and veggies/fruits with his cockatiels it seems.
Now I feel like I'm a bad spot with Sunny and Peepo, they're currently on a seed diet, and its generally hard to feed them any other kind of vegetables aside from spinach, endive, rocket and letuce, they sometimes nible on apple too but most of the stuff I offer has to go in the trash, since they refuse to touch it. I'm afraid that the kind of diet they have now is going to cause nutricion problems in the future, but I'm also scared of converting them to pellets because of what happened to Nonie.
Has anyone here had any similar experiences or any ideas why Nonie might have reacted the way he did with the pellet diet? Do you also have any knowledge about these two pellet brands I used, or any suggestions on good pellets that I can get here in Europe?
Id really appreciate any input I can get on this since I would like my birds to be on pellets again, they do seem to be what everyone agrees is best, in terms of nutricion.
(For those wondering what happened to Nonie, he unfortunately flew away last year, the cage wasn't properly closed and he managed his way out. We spent the whole day until nightfall trying to catch him, until we just lost his trail. We kept looking for him throughout the city the next days and even put out leaflefts but we never found him.. I miss both Nonie and Peaches dearly, it's cruel when a bird you're stating to bond with dies, and awful when the bird you've bonded with flies away forever)