Joined

10/19/21
Messages

9
Real Name

Jojo
For reference - My flock of green cheeks:
Main bird of interest: Callisto (3 or 4mo.)
The rest of the flock: Merlin (10yo.)Hera (7yo.), and Ruto (1yo.).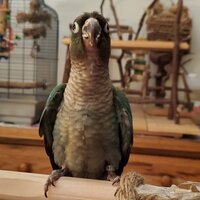 Callisto came home with us 7 weeks ago and is now right between 15-16 weeks old. I noted that he still had many baby-like qualities that Merlin and Ruto did not exhibit when they came home. Hera I got this year as an adult bird, so I don't know how she was as a baby. I took Callisto in for his first checkup the other day and my CAV commented on the fact that his eyes are slightly offset and asked if I'd noticed anything abnormal about his behaviors. I then told my vet about the various odd habits Callisto has and he confirmed my suspicion, that my baby GCC likely has a developmental disability. I've tried to read about other birds who have something similar, but I haven't really found that much on birds who are born with a disability. All of Callisto's tests came back clean, so any feather issues are just cosmetic and should be helped, at least a little, after his first molt.
Good habits of Callisto:
1. He is excellent at recall and always eager to fly. With him currently, the fact that I ask him to fly is plenty enough of a reward that he'll just go nuts flying around and chirping happily.
2. He eats really well. He was only 58 grams when he got home, so that concerned me, but he eats more than my other three adult GCCs. He actually eats more than two of them combined. They always have access to a pellet/seed mix I combine: 80% Tops pellets to 20% safflower gold. I also feed 10-12 grams of chop daily. Callisto generally has just a little bit of leftovers each day, and it's usually different parts of his diet, so it's not just that he's ignoring the broccoli or kale specifically or anything like that. He stops eating when he gets full. There have been a couple of days throughout the last seven weeks where he's eaten every drop of food in his bowls, and I make sure that's when I increase his daily portion sizes. He's currently at 63 grams in the morning and 65.5 grams when he has a full belly.
3. He's very vocal, even when myself or the rest of my GCCs aren't talking to him. From what I've read so far, it should be more likely for a disabled bird to be quiet, but that isn't his case at all. He chirps and chitters back and forth constantly with me, and is kind of always just chirping about unless my birds are taking their afternoon nap.
4. He's super active. He's always flying around and running places, both inside and outside of his cage. He has a specific posture when he lands, and I can tell when he's been flying in his cage. When I enter the room though, he just hops to the ground to run back and forth.
5. He's very lovey and sweet.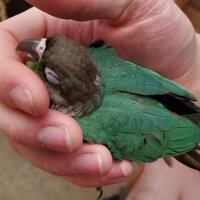 These are some of the things Callisto does that my other birds didn't do, and they don't always appear to be the safest habits:
1. Callisto sometimes struggles with balance and in general isn't graceful. He did come to me without a tail due to play-fighting with his sibling and is only now starting to regrow it, so I thought that and the fact he is a baby could be why he's clumsy initially. It is fully coming back in, however, it's just been slow getting here. Any time I hear a "thud" from the other room, it's definitely him. It happens usually once or twice a week, and there's always flapping accompanied with it. He never has any sign of injury, and I suspect that he just lands hard on the bottom of the cage, but on his feet after flapping frantically down, which is why there's not injuries from it.
2. Callisto generally only uses the bottom half of his cage. I try to make the entirety of my bird's cages engaging, so there's perches and toys all throughout the cage, but he only spends about 5% of his time that I'm aware of in the top half of the cage. He does fly around from perch to perch, and to the swing I have for him sometimes. He doesn't usually play with the toys at the bottom of his cage. The only toy of his that has visual wear is a pinata toy at the top, and it's been in the same state for the past couple weeks so I'm thinking he hasn't been playing with it recently. When I'm out in my living room, (where the birds are housed), Callisto usually just runs back and forth at the bottom of the cage, so it's hard for me to gage his activity in the cage. He is, however, always at the bottom half of the cage when I walk into the living room, which is why I assume he doesn't use the top half much. I don't want to cater to his needs to the extent that I'm stunting him even farther, but I also don't want him to continually be a hazard to himself. All my birds have the Prevue flight cage, which is a cage with all vertical bars. I think he struggles navigating over the big strip of metal in the mid-section of the cage, which is why he's most frequently at the bottom, so I've considered putting him in a King cage I used for Merlin for a while. It's a tall cage, but it isn't very wide. I don't feel like that's the correct change to make since Callisto uses a lot of the width of his cage to fly in, but it might help teach him how to navigate more safely, so I thought I might use it for a few weeks to see if he handles navigating things better. Again, I don't want to stunt his growth, so if I should just leave him in the flight cage, that's great, too.
3. He grabs onto the bars of his cage and does one of two things quite frequently... he'll either shove his head down between his legs so he's upside-down with his back on the bars, or he'll let go with one foot and flip around backward so he's upright, but still with his back on the bars. When he flips around this way, he'll usually rub his head on the bars, and he does this enough that he has a bald spot now. My CAV said it's just a cosmetic thing, and there's not an underlying disease there. For the first few weeks, Callisto would do this whenever my husband or I would even look at him. Callisto initially didn't have the bald spot, but when it started becoming apparent, my husband and I would immediately stop interacting with him and turn our back on him until we could hear him running around in the cage instead, then we'd either start that cycle over again or we'd immediately take him out of the cage and play/train with him. He doesn't do the flips when we look at him anymore, but sometime's I'll walk in on Callisto just chilling in his cage that way. My CAV said it might be an early hormonal manifestation, but it could also just be that new feathers are itchy and it's the best way Callisto has figured out how to handle the itches.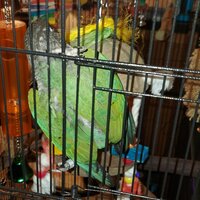 4. I don't think of this as a hazard to his health, but Callisto still has the baby green cheek chirp. His voice isn't "growing up." I don't mind this, but it does strike me as an odd thing.
5. He doesn't preen very well, or clean off his beak after meal time. I'm thinking this should change as he ages, but I am curious to know if anyone else has experience with their developmentally disabled birds cleaning/preening well or not.
Are there any other behaviors I should be on the lookout for or anything else I need to be aware of? Also, are there any accommodations I need to make early on, rather than later?
Last edited: