Rollerblading along the road
Avenue Spotlight Award
Joined

6/12/22
Messages

4,119
Location
Real Name

Meghan (she/her)
Isadora's wings were clipped before I got her. To me, they looked really ragged and hacked up - But I also don't have experience with clipped wings and what they *should* look like.
It's been almost 6 months having her, and her right wing looks better than her left, but both look... I don't know. Not right. She's had a molt too, and they haven't fully grown in. And yes, the left has a broken feather. It broke during the same panic flutter that she cracked her nail. No bleeding from it thankfully.
Am I paranoid? Does it sometimes take multiple molts?
Right: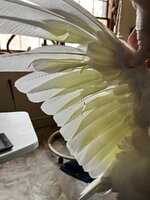 Left: