Sitting on the front steps
Joined

11/4/21
Messages

15
Real Name

Shelby
Hi, I recently took in 2 moustache parrots in need of rehoming. From the pictures the birds looked fine but the I'm starting to grow concerned about one of the moustache parrots, Frida, since she's in such ratty feather condition. I took the birds to the avian vet last week for a health check up but the vet wasn't worried.
Some things to note:
-She's not banded so it's impossible to know her age for sure. She's at least 10 years old
-She is incredibly hormonal around people and gets nesty
-I live in Canada where, to my knowledge, parrots having PBFD is rare
-Frida eats well and although she's not the most active parrot, she isn't lethargic
-The previous owner kept her with the other moustache and around other birds
-The other moustache is in great feather condition and is very active. He's 12 years old
-I don't plan on breeding them, Frida is also only interested in humans
-From the pack of food I got from the previous owner, they were fed mainly a seed and grain diet so she potentially has some level of malnutrition
-She has been preening a lot lately and is growing in new flight feathers so it might just be a bad moult mixed with a previously bad diet
I'm planning on taking her back to the vet and getting her tested but I was wondering if people on the forum share my concerns that she might have PBFD?
Pictures of Frida below: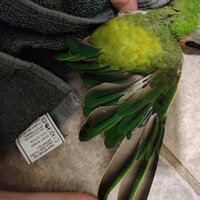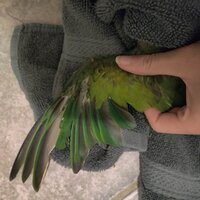 -I'm worried how some of her flight feathers have the 'clubbed' look which I heard is a symptom of PBFD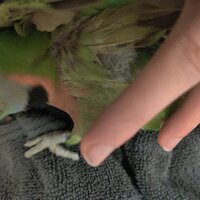 -Under her wing is kinda ratty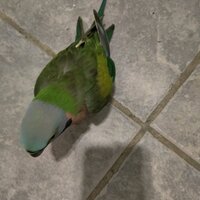 Also here is a pic of the other one, Sal: