Ripping up the road
Administrator
Avenue Veteran
Celebirdy of the Month
Mayor of the Avenue
Avenue Spotlight Award
Joined

4/15/10
Messages

49,255
Real Name

Matthew
Our "Mayor of the Avenue" award is presented to a member who exhibits the qualities that distinguish them to be an upstanding credit to the Avenue, a loving, informed, conscientious and caring bird parront and an all around good neighbor.
I am happy to announce that Riley is October's Mayor of the Month.
I enjoyed reading your interview, and am sure that everyone else will as well!

1. What kind of birds do you have (age, species and names)?
I have two budgies named Kiwi and Blizzard. Kiwi is one and a half years old, and Blizzard is one year old.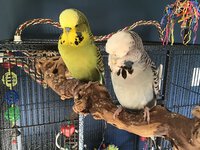 2. What got you interested in birds?
I got into birds after seeing some rescued birds of prey when I was 7 or 8 years old. I loved how beautiful and majestic they were and have loved birds ever since.
3. What have your birds brought to your life?
My birds have brought lots of joy to my life, I love to watch them fly around and interact with each other. I also love setting up their cage
4. What have you learned from sharing your life with your birds?
I have learned at lot about bird body language, and I've realized that many of the bird setups I thought were okay before getting into birds, were entirely inadequate!
5. What's one birdie memory that will stay with you forever?
The first time I met Kiwi. I had never held a bird before, so I was suprised by how soft he was! It was also the first time I ever saw him, because we reserved him over the phone. All I knew about him before that day was that he was green.
6. Where is your birds main living area?
My birds live in my room, they get far more out time now than before we moved because they used to alternate out time with the dogs.
7. Did you change things in your home to accommodate your birds and if so what kinds of things did you change?
The only things we had to change were our use of the wood stove, candles (that was pretty easy because we didn't use them often) and teflon pans.
8. Are you involved in any kind of bird related group or activities?
Other than Avian Avenue, I don't take part in any bird groups/activities.
9. What is the one luxury item you would love to have for your bird(s)?
I would love an outdoor flying room/aviary for my birds to fly around in. (Like @saroj12 's
)
10. Is there any bird that you dream of owning and if so why?
I would love to have a white headed pionus some day, they're gorgous and I think one would be a great fit, but I don't think it would be fair to the bird to have one now as I am still in school.
11. Describe a typical day with you at home with your birds.
After they wake up, I replace their food and water. After that I let them out for 20 to 30 minutes until I have to go to (online) school (on a weekday). During my lunch break I let them out for 20 to 30 more minutes. After school ends I take them out for 1.5 to 3 hours, sometimes while working on homework.

On a weekend, they're out for much more of the day, usually at least 5 hours of out time total.
12. What have you learned about owning birds that you would like to share?
I have learned that it is better to go at the bird's pace, and that birds have very distinct personalities. When I got Kiwi I didn't know this and I was pushy with him, I think this and his personality are part of why it's harder to see a bite coming from him. With Blizzard we took it slower, and she never bites, but this is also becasue of her personality, she is very gentile and just motions with her beak instead of biting to tell you to back off.
13. If you knew then what you know now about birds, what would you do differently?

I would have gotten Kiwi and Blizzard a larger cage, and I would've worked on adding pellets to their diet from the start. I also would've set up Kiwi's cage before he came home, instead of right when he got home.
14. What other hobbies do you have?
I like to draw, watch wild birds, and read.
15. Anything else you would like to share?
Does anyone else find it oddly satifying and therapeutic to set up an empty cage? It makes me super happy to get a set up just right and see the bird using it