Ri-DQ-lously crazy 4 TAGs!
Avenue Veteran
Celebirdy of the Month
Mayor of the Avenue
Avenue Spotlight Award
Joined

11/21/11
Messages

19,311
Location
Real Name

Jennifer
October 2017 Feathered Estates Highlight
I am very pleased to announce this month's showcased member
@Laylatoo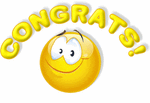 Setups used by multiple birds
​
1~ What kind of birds do you have and how many birds did you design your setup for?
I have two Rose Breasted Cockatoos. Layla is about 3 years old and I just got Jazzi last month. She is 6 months old. I originally had planned on having only one bird but quickly decided I wanted to add a second after I brought Layla home this past February. I adore this species so much! Before getting Layla I had Jasper who was a bare eyed cockatoo/goffin Hybrid. I lost him tragically after an accident he had in his cage and knew I would not be ok without a feathered baby and that's when Layla found me.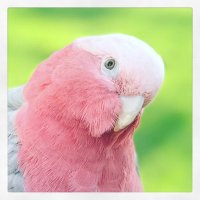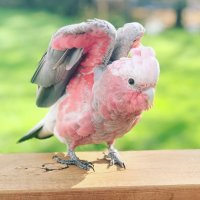 2~ Is your setup for a handicapped bird?
No.

3~ Are there any budgeting tips you discovered while doing your setup?
I'll be honest when I say I was not good at keeping a budget in mind. I spent a lot of money on these setups and it's always evolving.(Shopping for my birds is an addiction.
) I do make sure to check multiple sites for pricing when making large purchases before making a final decision.

4~ Is your setup changeable or stationary and do you add or make changes continually or do things stay primarily as is?
The stands are changeable but do stay stationary in my living room for the most part. I am always changing the toys around and adding to them to keep them new and exciting. The cages also get toys changed regularly but my birds only use the cages for sleeping and the occasional time when I need to leave the house so the stands are used more often. I also have two tripod travel stands that I use when I need to bring the girls to other areas of the house. I find them very handy for showering them too! I can take the stands if we travel. I also have a pak-o-bird for traveling and two birdie go-go's for shorter trips.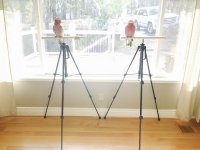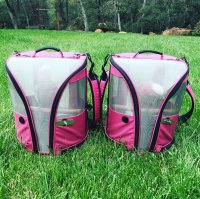 5~ Where did you find your materials if you made it yourself or where did you purchase the setup and do you have favorite places to purchase safe toys and/or supplies that you find reliable?
I purchased most of my things. One cage came from a local bird store, the other was bought from Bonka Bird Toys. My stands were purchased from Manzanita Habitats and Overstock.com. I also have a new large stand coming next week to replace the Manzanita one because I prefer the look of the Java and find it easier to clean. Mysafebirdstore is always a great place for toys, food, stainless bowls and so much more. I purchase things from a lot of online sources. I am also lucky to have a great feed store 5 minutes away that actually has a great variety of parrot essentials like toys and food.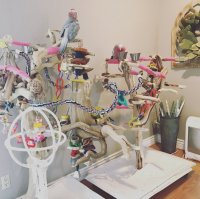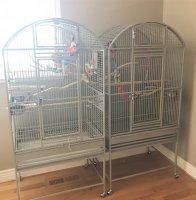 6~ Do you have a favorite item that you bought for your setup?
My favorite would be my Java Root swing from mysafebirdstore and the Orbit that I got from an etsy seller. I love how they add more play space to the stand. I have another java root swing coming next week for the new java tree as well. Layla adores her swings also!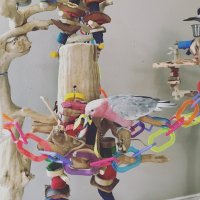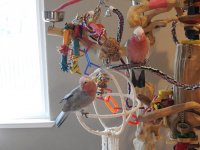 7~ If you made any DIY toys what is your bird(s) favorite and were there any failures?
I am not much of a DIY'er. Does sticking some chewables and shreddables on a skewer count?


8~ Did you incorporate into your setup any foraging toys and how did your bird(s) take to them and was age or inactivity a factor?
I have multiple plastic foraging puzzle type toys that I change around in their cages. Layla has figured most out almost immediately. Jazzi has fun trying.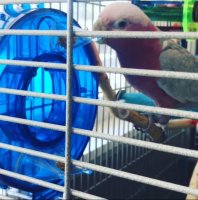 9~ What difficulties did you encounter, if any, and how did you remedy them?
I think my biggest difficulty was getting my husband on board with the large stands in the living room and cages in the master bedroom. He now sees how much use all of the stuff gets and how much happiness the birds bring me so he is used to the bird lifestyle now. I also wanted to protect our wood floors so under the cages and stands I put clear office mats. They make life so much easier!

10~ What do you like least about your setup (if anything)?
Not much. I am quite happy with it all and the girls seem to be as well.

11~ What do you like most about your setup?
The variety of things to keep them busy. I also love having the stands in the living room because the birds get to truly be a part of everything. We have four kids so they always supply a ton of attention and interaction.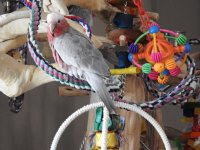 12~ Did your bird(s) take to the setup right away or did they approach it tentatively needing time to adjust and do you feel their age was a factor?
Both of my girls seem pretty brave. They are curious and willing to approach anything new.

13~ Any future renovations planned?
With the arrival of the new stand next week, it will be changing. For the most part though this setup works for us well and I don't foresee any huge changes.