Ripping up the road
Administrator
Avenue Veteran
Celebirdy of the Month
Mayor of the Avenue
Avenue Spotlight Award
Joined

4/15/10
Messages

47,311
Real Name

Matthew
Our "Mayor of the Avenue" award is presented to a member who exhibits the qualities that distinguish them to be an upstanding credit to the Avenue, a loving, informed, conscientious and caring bird parront and an all around good neighbor.

I am happy to announce that Dawn is November's Mayor of the Month.
I enjoyed reading your interview, and am sure that everyone else will as well!

1. What kind of birds do you have (age, species and names)?
We have a Green Cheek Conure. Jenks is his name and our best guess is he is around 4 years old. We have had him for 2 years.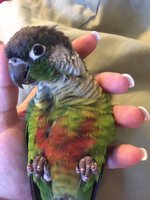 2. What got you interested in birds?
My husband actually. When he was growing up his grandfather had a pet store in Florida. The store had a range of birds and he loved them so would talk about it a lot. As we would go to our local pet store for dog and cat food he would always comment about one of the Conures. Aries a Jenday Conure was at that shop for almost 2 years. I started doing some research about parrots and we went back and forth on if we wanted to take a bird on. Well we bought Aries and she ended up stealing my heart pretty quickly. I felt so bad for her and couldn't understand why people kept returning her. She was a wonderful bird and only helped to grow my love for birds.

3. What have your birds brought to your life?
Joy, happiness, and laughter for the most part. They put a smile on my face and their antics keep me laughing. If I am down my little man generally can cheer me up just by being his cheeky self.

4. What have you learned from sharing your life with your birds?
They are very misunderstood and so many deserve a better life. I have for sure learned more patience. Birds do things on their own terms and have personalities galore that you have to take into account. They are loud, messy, and a lot of work. They are worth every bit of work you may do, any messy they may make, and headphones work wonders. By sharing my life with birds I realize we need to do better for our feathered companions to give them the best life we can!

5. What's one birdie memory that will stay with you forever?
When Aries came to me for the first time. She was not treated kindly and was very misunderstood we think. I worked and worked for months to just to try to get her comfortable with us. We could not touch her as she was very fearful so we did a lot of reading to her, just sitting by her, and eating with her. We used a perch to transfer her from place to place. She couldn't fly when we got her either. We would push her cage up to the chair so she could climb about. One day she just ran to me and wanted her head scratched because she had a ton of pins. That was all it took and she was my best buddy after that. It freaked me out at first because I thought she was running at me to bite. Nope she had decided I was an ok human. Her rubbing her little head on my hand is probably still the best bird moment I have ever had!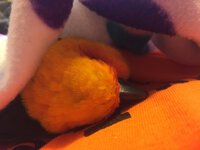 6. Where is your birds main living area?
Jenks has his own room now. It is a work in progress but it is coming along. He also hangs out with me in the main house area when our kitties are secure in a different section of the home.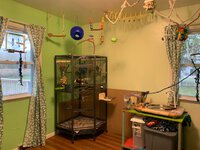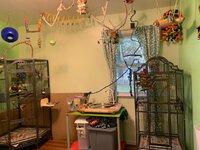 7. Did you change things in your home to accommodate your birds and if so what kinds of things did you change?
We have changed several things for our feathered friends. No candles or scent type stuff any longer. No Teflon, we have switched all of our cook ware over. All natural cleaning products, we use vinegar/water or F10. I do still use Lysol wipes but only in the bathroom around the toilet. I seldom wear perfume now and if I do I put it on in the car. We do not mix Jenks and the fur babies so we have a door to the secondary part of our home. That door gets locked with the cats in that section when Jenks is on the loose to keep him safe from the furred ones. We don't wear orange or red very often. Something about those colors send little man into a fit. Hats as well are a no go in our house if Jenks is around for the same reason. Wet hair is a no go, that one gets me the bites. When we bought our new house we set one of the rooms up for Jenks so that he could have his own space to be him.

8. Are you involved in any kind of bird related group or activities?
Just AA for now. There are a few bird groups around but most are too far to drive to on a regular basis. I keep looking for something a bit closer.

9. What is the one luxury item you would love to have for your bird(s)?
Outdoor Aviary. We have the room now it is just getting something built that I feel comfortable with. We have a ton of predators in our area so it will need to be properly planned out for safety.

10. Is there any bird that you dream of owning and if so why?
Actually I really don't have a dream bird. I wouldn't mind a friend for Jenks someday, he needs a buddy. Usually we just go for those in need of a good home.

11. Describe a typical day with you at home with your birds.
Jenks's room is right next to the bathroom. So when I get up in the morning around 6am typically on a weekend I hit the bathroom first. If I hear a little chirp, squawk, or a "buddy" I know he is awake and I'll tell him just a second. He usually will wait patiently for me to come to his room. If I don't hear the chirp I make coffee before going to greet him. I go in and uncover him give him lots of good mornings and yes in a sing song voice that isn't anyway remotely in tune. I give him his morning pellets and grab his water bowls. While he is chowing down I clean his bowls, make coffee, and feed the cats. I bring back his water bowls and open his cage so he can wander about in his room. Usually he just eats more and wants nutriberries first thing in the morning. He ventures out of his cage when he is done eating. While he is eating and exploring I am drinking my much needed coffee and taking a shower. Jenks very much dislikes wet hair to the point he will dive bomb me and bite if my hair is wet. No clue why just one of his quirks. So after my hair is dry and the cats are secure I go open his door to ask if he is ready to come out. Generally he flies to me and we start our day. He has a few perches in the living/dining room areas and we have a second cage I wheel out so that he has food and water available. He tends to just go where he pleases and isn't very destructive. Usually he rides around on my shoulder if I am up moving around. He is my cleaning buddy and likes to "help" with starting the laundry. After a few hours I usually give him some time to himself in his room while I get other things done and give the cats time to roam. A bit later we secure everything again and open his door back up so that he can come out to spend time with us in the afternoon. We usually will give him chop, veggies, sprouts, or some kind of fruit to munch on while he is out in the afternoon. We also usually set up his swimming pool so he can take a bath, he loves to play in water. As it starts to get later in the evening I will take him back to his cage for the night. Usually it is around time for me to start dinner. He gets a couple of nutriberries in his bowl and is pretty content for the night. He will pop off a "Whatch doin Buddy" or "are you ready" on occasion if he hears someone in the bathroom. Around 7:30pm is his bed time so I go in and we start our bed time routine. I pull his food bowls out and start the cage covering process. During this time I tell him it's time to go nite nite and we whisper "pretty bird" back and forth to each other until the last blanket goes on. Then lights out until the next day.

12. What have you learned about owning birds that you would like to share?
They are hard work but well worth it. They bring much joy to my life and deserve the very best we can give them. You have to have plenty of patience and time when you have a bird.

13. If you knew then what you know now about birds, what would you do differently?
I would have picked a different vet for Aries. I still blame myself for her loss as I thought the vet I was taking her to was well versed in birds being an Avian Vet. I was sadly mistaken and we lost her because of it. After now going to Niles and seeing how they handle Jenks I so wish I could go back and have a do over.

14. What other hobbies do you have?
I am huge into plants and gardening. If it is nice out you will probably find me digging in a flower bed or the garden. I have started a plant room as well that is quickly filling up with succulents and house plants. I even have a Lemon and Clementine tree in the plant room now. I love to read and/or listen to audiobooks. In the winter months I make all kinds of homemade products like lip balm, body cream, and soap. We have a woodworking shop so I also do fun projects in there when the mood suits me.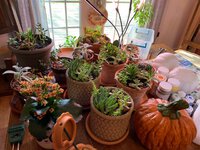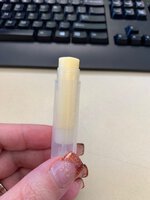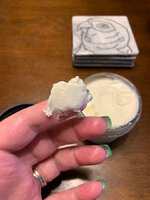 15. Anything else you would like to share?
Just that I really thank AA for being there for me and Jenks. It is truly a second family for me and one that I count on. I have learned so much from this forum and all of the AA members. Hopefully I can return the favor to others.