November 2018 Feathered Estates Highlight

​
I am very pleased to announce this month's showcased member​
Faislaq!​




1~ What kind of birds do you have and how many birds did you design your setup for?
We have 5 birds: 2 green cheek conures
, 1 miligold macaw
and 2 goffin's cockatoos
.
2~ Is your setup for a handicapped bird?
Not really. Harley doesn't see well, so we keep her food and water in the same places, but she adapts to other changes really quickly so we don't consider it much of a handicap.
3~ Are there any budgeting tips you discovered while doing your setup?
I shop online almost exclusively; you have a wider selection that way & can use coupon codes. We also like to improvise and DIY when we can to save money; Buzzard loves to demolish pine bed slats and plastic chain from the hardware store & his playstand is a repurposed garment rack.
4~ Is your setup changeable or stationary and do you add or make changes continually or do things stay primarily as is?
We prefer to keep the cage layout the same as long as it works, but we've always managed to find room to make changes as needed: When we brought Luv Bug home, we had to move the conures from the living room into the dining room by Buzzard to keep the new world birds separate from her dust, and when Buzzard discovered the kitchen light switch
we rearranged the whole dining room again to move his cage farther from the doorway. And I got rid of my nightstand to make room for Luv Bug's night cage.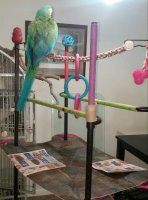 Now that Puffin is here, we're in the middle of another transition. A few days after quarantine, the 'too girls figured out how to open their cages so we had to assemble a new divider cage with better locks ASAP. Puffin is okay in her half of it during the day, but will only sleep in her old cage so we moved our bedroom furniture around a bit to make room for it across from Luv Bug's night cage. Luv Bug won't go in or on the new cage at all yet so for now her old day cage is still the living room beside the new cage; we just wheel the corner of the new cage against her door when we leave so she can't let herself out.
Once they're both comfortable with the new cage, we'll be able to get rid of Luv Bug's old cage and have our living room back. The world will make sense again!
5~ Where did you find your materials if you made it yourself or where did you purchase the setup and do you have favorite places to purchase safe toys and/or supplies that you find reliable?
The only thing I really made myself was Buzzard's playstand.
I was always in awe of everyone's huge java stands but I didn't want to spend that much, plus I wanted something I could move from room to room. I tried making a stand out of pvc, but it was too light. One day I noticed the garment racks at WalMart. I went with a double garment rack so it wouldn't tip over. I vet wrapped it and added a rope perch & some toys. It's perfect!
Fits though our doorways and rolls across carpet no problem.
For supplies, I usually order from Chewy, Amazon or Drs Foster and Smith (whoever has the best sale), but for toys I like our AA vendors and MyBirdStore.com.
6~ Do you have a favorite item that you bought for your setup?
The goffin girls' new cage. It's probably because it's so new, but everything feels so nice.
The locks feel solid but slide smoothly, the wheels roll with less effort and the whole thing comes clean more easily. We've never had a brand new cage before since everyone came with theirs.
7~ If you made any DIY toys what is your bird(s) favorite and were there any failures?
One of Buzz's favorite toys came from a failure.
We had a thick bayberry branch I wanted to hang from the ceiling as a swing. I thought metal chain in our living room might look tacky so I bought the thick, white plastic chain off the bulk rolls at Home Depot. I assembled the swing and set it on his playstand for him to get used to it & he ended up snipping the links of the chain into little bitty pieces!
Boy was I glad I hadn't hung it yet! Now I hang a couple feet of that chain in his cage every week or so; cheapest toy you'll ever find.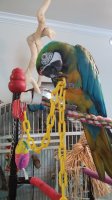 8~ Did you incorporate into your setup any foraging toys and how did your bird(s) take to them and was age or inactivity a factor?
Luv Bug has the most foraging toys. She learns them and empties them so quickly that we change them out weekly and she always has 2-3 in her cage. She's not food motivated so we fill them with beads which helps slow her down because she ants each of them before getting another. Before we leave for work we fill her toys and put a big handful of beads & toy parts in her food bowl to keep her occupied as long as possible. Puffin is slowly starting to learn to play with toys, so hopefully it won't be long before they're both foraging.
Everyone else is food motivated so they get skewers of veggies and fruits instead. Not really a "toy" but still foraging. Buzz does have one large tower-style foraging toy in his cage, but he gets the food out by banging it against the side of his cage instead of pushing the levers and pulling the cord.
Whatever works, as long as he's having fun!
9~ What difficulties did you encounter, if any, and how did you remedy them?
Having dusty and non-dusty birds is a challenge. We do our best by keeping their cages as far from one another as possible and we have two air filters; one in the living room with the 'toos and one in the dining room by Buzz, Scott and Harley. The cockatoos sleep in our room, so that's more time farther from the others. Also, Luv Bug adores taking showers with hubby; she gets a
thorough
soaking several times a week.

I'm not sure how often Puffin was bathed at her old home, but I've been able to mist her by taking it slow and alternating spraying over her head with singing, dancing and kisses til she fluffed up and started reveling in it.
Hopefully she'll begin to love it as much as Buggy does.
10~ What do you like least about your set up (if anything)?
Being in an apartment/renting. There's not a lot of space and we can't attach things to the walls and ceiling like we want to. And I wish they all of our birds had bigger cages; I dream of having aviaries for all of them after we get a house.
11~ What do you like most about your setup?
We like that we've got everyone's cages arranged in a way that they can all have their cages open while we're home; everyone has their own space away from the others.
12~ Did your bird(s) take to the setup right away or did they approach it tentatively needing time to adjust and do you feel their age was a factor?
It's funny, little Harley who can barely see can handle any change the easiest. She just starts exploring; she's fearless!
Scott, Buzz and Puffin take a little time to warm up to changes
inside
their cages like new perches and toys, but are fine with the location of their cages being moved. And our daring Luv Bug is the one that has the hardest time adjusting.
I don't think it's age related as much as how they were raised possibly? Luv Bug's old owners told us she was afraid of bright colors and anything new when she came to us. Over this past year she has come to love colors and accepts new toys and perches readily, but when her cage itself changes or moves, that's what she has the hardest time with. A few months after she came to us, we switched her day and night cages (the direction the doors opened made more sense). We were careful to put everything back in each cage the way it was had been in the other and it took her several days to approve of the change.
13~ Any future renovations planned?
Just getting a house and an outdoor aviary. We plan to use
@aooratrix
's brilliant chicken coop idea. It's genius!
Last edited: