Checking out the neighborhood
Hi, I am Tin and I am in Scotland in the UK and I have 2 parrots in my home.
The first one is a Blue Fronted Amazon rescue called Yogi, of irritable nature and approximately 20+ years old. He can only be handled by me. He seems to take a negative line with my partner and would attack her if he could. But we have plenty of time to work on that. I have only just been able to touch him and play with him after 5 years!
The second is Fluggi, an African Grey, 4 years old now and can't be quiet! She has a large vocabulary that sometimes increases without our conscious efforts - you should hear some of the things she says (or shouldn't!) She whistles a lot of tunes too, especially TV soaps that my partner watches avidly.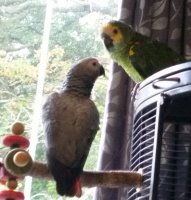 Anyway, here we are, hope to share parrot stuff with you guys. Please be gentle... LOL
Tin and Mandy