Hello! I'm new to parrots, and this lorikeet's my new bird. They're about four months old and hasn't been named yet. Recently, I've been noticing orange and gray chest feathers (I think) on the ground. There aren't many, but it's still worrying, and I have seen them picking there a few times but just assumed they were preening. I've had them for about five days now. They're very tame and warmed up to me quickly: I taught them how to step up on the first day, and we're working on target training. However, I'm very worried about the feather plucking, and I wanted to hear some advice from people more experienced.
As soon as I got them, I noticed the stress bars, but I was pretty sure they'd disappear by their next moult. However, since they're plucking, I'm worried if they're actually much more stressed here than they were at the shop, and again, I'd like some tips to help reduce stress.
Diet:
Orlux lorikeet mix in the mornings and afternoons, and Wild Earth (dry) at night. They also get either strawberries, apples, broccoli, or carrots every day. There are always at least two types of fruits and veggies in their dish.
Handling:
I try to handle them when I can: however, this is hard as they poop every five or so minutes. They know how to step up and will do so, and do climb up on my shoulder but can easily get them to step off. They rarely bite, but they do 'nibble' a lot- they nibble at everything, to be honest- and it does still kind of hurt so when I handle them, I usually wear my jacket sleeves over my hands.
Playing:
They're not very interested in their toys all that much. They have a few store ones, plus some home-made ones, but don't really seem all that interested in them: occasionally I'll catch them chewing at some, but that's it. Today I made them a shallow pit of paper to forage in, but they didn't really seem interested.
A photo: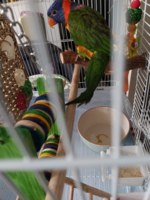 I'd really appreciate your help, and thank you! <3 I want them to live a long happy stress-free life, and I will try to do my best to provide that.