Joined

12/1/22
Messages

14
Real Name

Brooklyn
(If this thread topic is under the wrong section, please let me know and I will make any adjustments. I am very new to this.
)
Hello, I am a minor. I have had experience with a previous blue Budgie named Nimbus who passed away suddenly on Halloween (
I think it was a genetic organ issue, as he would get sick suddenly without cause and get better a few days later with no treatment. I could not find more research on genetic organ failure signs. It could of also been toxic toys as I bought some the day before and he was just fine, but I doubt it
). I had successfully clicker trained and recall trained him, we were very bonded and he loved to play with my hair (
he would be let out everyday and would pace in his cage when I returned home from school, wanting to be let out
). I have done extensive research on proper bird care, and I only want what's best for my current birds.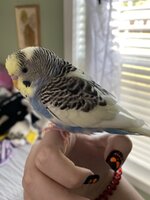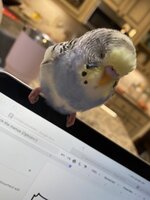 I adopted Star (female yellow budgie) and Sterling (blue male budgie) three days later as a way to help me cope with Nimbus' passing.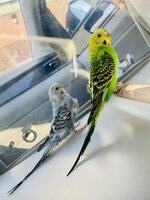 They share a cage together currently and are bonded. I have actually caught Star allopreening Sterling a couple of times
They will get a bigger cage for Christmas.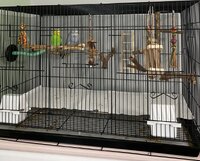 (Sorry for bad image quality)
Recently, I read online that covering your birds cage at night is harmful and can cause hormonal issues. I did not know this with Nimbus, but I had no problems with him. This leads me to make changes in Star and Sterling's sleep routine the best I can.
I do
not
have another room for the birds to stay in, as they sit on top of my dresser. I am getting an air purifier and cleaning their droppings more often after looking into BFL and other related diseases. (I do
not
show any signs).
I'm wanting to get them a nightlight for the night to prevent nightfrights. I was also looking into"conditioning the calm" (
When your bird is napping or sleeping, play calm music while they rest so they start to associate the music with calm/sleep. That way, when you play the sound at night, they will begin to get sleepy.)
But I am unsure if this would help.
I leave and enter my room quite a bit during the night, as well as stay on my phone (
with the lowest brightness on
) with my headphones plugged in, so the noise will not be a bother. Ive kept changing their routine the past few days, and they seem to get little to no sleep without a cover. I am trying tonight with a partial cover to see how things work out. I put them to bed at 6:00pm and wake up at 6:30am (
any tips on how to make the transition from bed to sleep/sleep to awake smoother and easier let me know please!
) Also, I do
not
think a sleep cage would be ideal since I have no place to put it, my only place being my crowded closet with no ventilation or fresh air…yikes.
Apologies for the semi long post, I have been stressed about their well-being and just wanted some tips! Thank you all for reading
(
Note: I am working on clicker training and hand taming with them. In a few days they should be ready to leave the cage. I will then work on target training.)
Last edited by a moderator: