Serious success, folks! I'm elated that she likes it, and I feel good about the ingredients!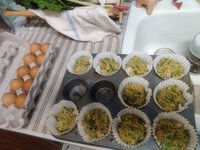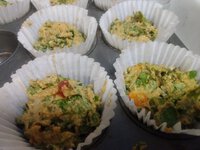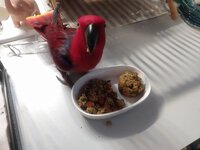 And a few minutes later: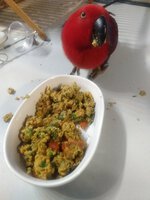 Of course she wanted to demolish her own instead of the one I checked for done. She ate about half of it without taking a breath...
3oz cornmeal
3oz masa
3oz whole wheat flour
1.5oz wheat pastry flour
1 t powder
.5 t soda
Pinch salt
2 eggs
.5 c pureed fruit (papaya, passion, plantain, lots of things she didn't want to eat.... Went into the blender and into the freezer.)
.5 c water
1 c diced peppers
1 c mustard greens
2 T hemp seeds
3 T mix of pepitas, dried papaya, dried pineapple and almond slivers that I keep for treats
Oils:
.5 t grapeseed
.5 t coconut
.5 t red palm
.5 t rice bran.
10 muffins, (20 servings)
They taste good, but too sweet for me! Mine have cheese, onion and jalapeños.