Rollerblading along the road
Avenue Veteran
Joined

1/18/17
Messages

1,715
Location
Real Name

Melissa
Back in September, just before my covid diagnosis, I had adopted a small mix breed named Spock, he was 6 years and 8 months when I adopted him. He loves to go visit the rest of the family and run around in the backyard with their Lab, Orion. He does have Lyme though and as been put on medication multiple times for it. He has been off it for almost a month now and seems to be doing fine though!
Today, after realizing I didn't have time to travel to my parents place every weekend while still getting things done around the house and/or relaxing, I opted to adopt another dog, also at 6 years old is Carly, my Pitbull mix. The two get along surprisingly well, I thought Spock would have been a bit more aggressive especially when it comes to his toys, but it'snot too surprising since he loves other dogs. Carly, however, is afraid of Dexter, my cat. Oh yes, the big, scary, extremely aggressive pitbull is sent running, tail tucked, at the sight of the cat. She'll get use to him, Dexter isn't aggressive and just minds his own business.
Spock was surrendered when his previous owner was moving and couldn't take him.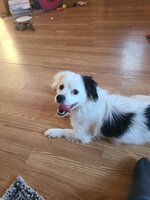 Carly was a stray from one of the southern states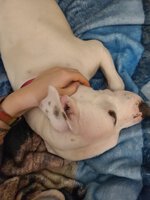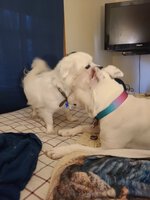 Ah yes, two white dogs, with my nice black interior car, and my black couch. The dog fur is definitely not noticeable.