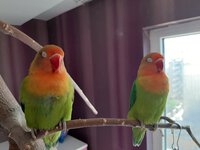 Hi guys , these two are my mangos but as you see the left one has lack of feathers in his chest which makes me concern that if there's a problem or not .
he is 6 months old ,sometimes has diarrhea (not really sure) he naps during the day alot with his friend ,sometimes sneezing and hasn't taken a bath in 2 weeks ,his playful behavior is less compared to the day I got him ,he is on shredding things mode and rage .in addition he recently has found a hole in the wall and spends his day there in the darkness ,kind of a hiding behavior I guess, he eats and drinks well but sometimes breaths with his beak and has hard time landing (not often really).
that's it !
I'd like to hear your suggestions because I'm so confused by the symptoms and cant take him to vet !
This is a picture of his dropping ,is this alright? Or is it diarrhea?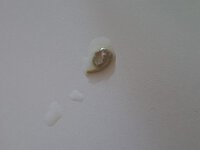 Thanks .