Rollerblading along the road
Joined

11/4/17
Messages

3,257
Real Name

Kiera
It's nighttime here. Everyone else is asleep but my brother and I. My brother has both of the dogs in his room. I went in my brother, Seth's, room to see if he was still awake, and he was. So I talked to him for a second, then when I was leaving I called Gizmo, our Australian Shepherd, wanting him to come hang with me in my room (Odie, our Dachshund, is usually my roommate but has spent this whole night in Seth's room). Gizmo was currently sleeping just on the floor, a few feet away from his big dog bed. I had to call Gizmo a few times before he got up, very slowly, in fact. He finally got up and stood in place for a while. I called his name again, and he looked back at his bed and then back at me. It was a decision between me or his very comfortable dog bed. A couple seconds later and he turned, walked over to his bed, and just plopped down. He chose the dog bed. Okay, I see how it is.....


Honestly, though I couldn't help but laugh. Just the fact that he looked back at his bed and then back at me as he was trying to decide where to go just killed me.
Here are a couple cute pictures of this silly boy. He may have chose the bed over me but I still love him to death.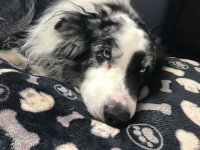 Last edited: