Rollerblading along the road
Avenue Veteran
Celebirdy of the Month
Mayor of the Avenue
Avenue Spotlight Award
Joined

7/24/14
Messages

2,691
Location
Real Name

Jennifer
Another Philly trip for Max to see Dr Tyson at Avian & Exotic Medical Surgical Center today. Baby boy is doing great overall, but still a sinus infection issue, so starting new anti-fungal to try to get that cleared up. He was due for 2 more Deslorelin hormone implants. The implants will likely be a lifelong treatment, between Max losing a testicle that was part of the tumor, but the implants should prevent the growth of any future reproductive tumor.
And the xray report for last visit scan conformed that the cystic growth previously seen in conjunction with the tumor has resolved! So more awesome news there!!
Max is back on antibiotics along with the anti fungal, so he will be whining about that
99% good news today, just need to get the sinus thing resolved!
Bad news for our wallet, another $1,000 bill for today's implant procedure. Told Byron we were poor again, he asked when haven't we been poor since this started almost 6 months ago. But we have a mostly healthy blue brat!
Pics of baby boy after the trauma today, he was still pretty woozy from the light sedation, he was a whiny boy.
And look at the awesome feather earrings one of the vet techs made for everyone with feathers that were plucked before the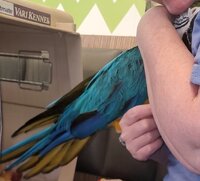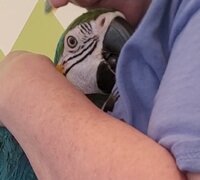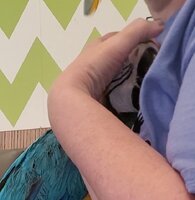 surgery!