Rollerblading along the road
Avenue Veteran
Celebirdy of the Month
Joined

3/14/13
Messages

2,209
Location
I know there is an open thread about the AA sale goodies but i just had to recognize a sweet flock of cheekies.
From my order I got:
4 Expandable Habitats Stainless Steel Toy Hangers
2 Small Tie Fighter
2 Rings and Beads Small
Love all the toys but I think the small Tie Fighter is one of the best deals on the handmade bird toys market. A lot of beads, lots of knots and a nice slice of wood and with a some leather for those who like the front but cant wait to see it from the back.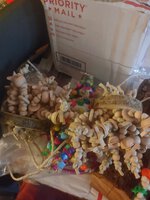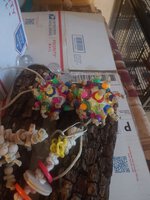 The box seemed a bit heavy but it contained a bittersweet surprise, the very first toy purchased for Butthead and the very last one .
Both are chewed to pieces and packed away.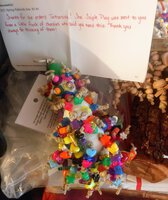 Mahalo you wonderful flock of Cheekies and the flock leader.
Mahalo TNT!