Joined

3/23/23
Messages

10
Hello everyone!
First allow me to share with you couple of pictures of my new parrots, got them 2 weeks ago:
say hi to..
-Luca: 10 weeks (White bellied Caique)
-Alberto: 9 weeks (Black Headed Caique)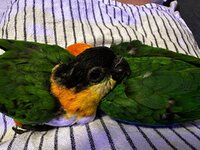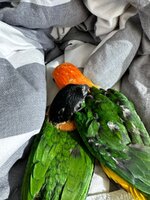 I am handfeeding both for 2 weeks now.
-Since i got them, I am not sure what they have been through, they are scared of hands, and bite(i do believe they might have been taken out from the nest a bit older?).(not the first time i handfeed parrot, at such young age i was surprised to have such behavior already..)
-I am spending lot of time with them to bond,did some progress with them, biting is minimum now and manageable as I am able to read their body language, less scared, but they are just focused on each other and refuse to interact, or bond with me at all.
-I did handfeed a caique in the past(only 1) and all he wanted to do is to come to me and be with me, which is not the case with these 2; each bird is different this is understood, but the reason i got 2 caiques is that i got the information that 2 caiques can still bond with each other and bond with their owner. My concern is not to be able to bond with them, and looking for some advice on how to address my concern and get them to have some interest with me (yes im jealous, that they are only into each other!) as i see a huge difference between my previous caique behavior, and those 2.
Did i take the wrong decision to take 2?
I will really appreciate some advise on the above.
Thanks !