Rollerblading along the road
Celebirdy of the Month
Mayor of the Avenue
Joined

4/12/21
Messages

3,077
Currently in a battle of wills with Mojo she flys to the floor i pick her up repeat, this is new and i think very much due to her being hormonal and cavity seeking.
Have blocked off everything she can get under or into. She has all her usual toys,foraging box java trees but nothing has the appeal of the floor. I dont really want them on the floor i feel its just to dangerous.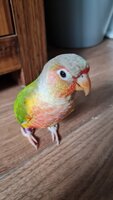 Any hints or tips on how to stop them going on the floor ?
I have no word of a lie picked her up 3 times while typing this.