Rollerblading along the road
Mayor of the Avenue
Avenue Spotlight Award
Joined

4/8/18
Messages

2,877
Java playing with one of his favorite toys from
@Jan
He was playing until I started recording. He's also laying down for once.
I put him on his cushion but he decided he wanted to climb my recliner, which is his new favorite place to sit. Almost there. (Also, ignore his nails. I trimmed them that night).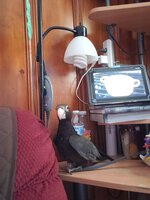 Watching the birds like the true stalker he is.