July 2018 Feathered Estates Highlight



I am very pleased to announce this month's showcased member
Erikalynnha!
​

1~ What kind of birds do you have and how many birds did you design your setup for?
I have 4 conures. A black capped, blue crown, sun and green cheek conure.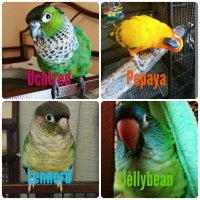 2~ Is your setup for a handicapped bird?
If you consider a sun conure who finds a way to get hurt on everything handicap than yes lol
3~ Are there any budgeting tips you discovered while doing your setup?
A lot of the vendors have given me amazing ideas on how to start making my own toys and perches! This is definitely going to help me in the long run as I'm constantly shopping for bird stuff :O shopaholic much! I also go on Let Go to find really nice used cages, you'd be surprised what gems you'll find!
4~ Is your setup changeable or stationary and do you add or make changes continually or do things stay primarily as is?
I rearranged cages about once a month and rotate toys out about once a week. I also rotate toys on their play stand.
5~ Where did you find your materials if you made it yourself or where did you purchase the setup and do you have favorite places to purchase safe toys and/or supplies that you find reliable?
I purchase most of my toys and perches from Avian Avenue vendors.
6~ Do you have a favorite item that you bought for your setup?
I have 2 huge Java tree play stands tucked away in my basement for when I get my bird room. They are very nice and I'm excited to use them!
7~ If you made any DIY toys what is your bird(s) favorite and were there any failures?
I often use leftover bits from broken toys and make new ones out of them. Of course they're not as fun when mom makes them -_- I also dye my own beads and wood. The only failure is I'm really messy and it gets everywhere xD!

8~ Did you incorporate into your setup any foraging toys and how did your bird(s) take to them and was age or inactivity a factor?
I hide treats in their toys everyday for them to find. I also have ss buckets in each of there cages stuffed with toys, crinkle paper and treats. I make little cardboard crinkle paper sandwiches and stuff them with food too, these have been a hit!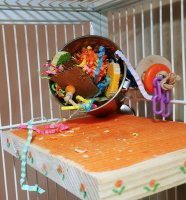 9~ What difficulties did you encounter, if any, and how did you remedy them?
Jellybean is not good with any bird other than Papaya. We have to do separate playtime in different rooms for them. I was worried I wouldn't be able to spend enough time with them at first dividing my attention between the pairs. Luckily Jellybean and Papaya are pretty much in their own world and Bean can only stand me for about 1-2 hours (of total cute lovey dovey cuddles) before he is back to playing and ignoring me.
10~ What do you like least about your set up (if anything)?
Lack of room at the moment to do the awesome setups I see other people having
11~ What do you like most about your setup?
That I can leave the house for a couple hours and know that the birds are fine entertaining themselves in their cages and comfortable. I have a window in my room that gets amazing amount of sunlight throughout the whole day and although I can't keep it open for them all the time it brightens up the whole room!
12~ Did your bird(s) take to the setup right away or did they approach it tentatively needing time to adjust and do you feel their age was a factor?
I have always change their cages around so the birds aren't really surprised when they see something new in their or the layout is different.
13~ Any future renovations planned?
I plan to convert my porch into a large bird room for Jellybean and Papaya. I will also be taking out the closet in my bedroom to make a nice little space for the little birds to play as well as hang toys and my Tweety Pie's gym from the ceiling.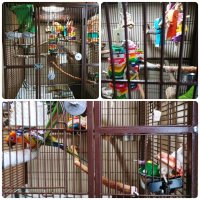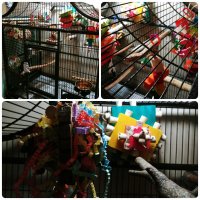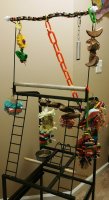 The rope perch is wrap with vet wrap at the moment cuz it's the only thing that Papaya won't chew on for some reason but will be replace with wood when I figure out how to do it.
Last edited: