Rollerblading along the road
Avenue Veteran
Mayor of the Avenue
Avenue Spotlight Award
Joined

7/24/14
Messages

2,588
Location
Real Name

Jennifer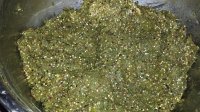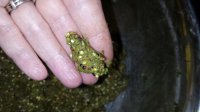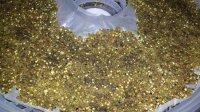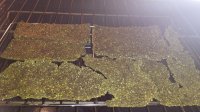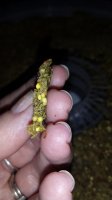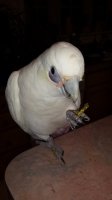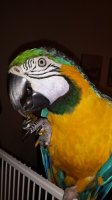 So on to the next bird food challenge
I have been using a pellet alternative called 'Green Chunks' offered by Phoenix Foraging. I still offer Roudybush, but I have a few birds that love these green chunks, and its getting a little pricey to keep everyone in the green
So had to give it an experiment!!

I made the first round with what I had here but working around the ingredient list on the Green Chunks. They turned out really well and the birds all ate them (that in itself is a success!!), but today working on perfecting the recipe. First round of what I will call green birdie crackers has been completed and appear to be a success. These are a substitute for pellet resistant birds (and we all know one or two or a dozen of them). I made these up two ways, some were just rolled onto wax paper and placed directly into the dehydrator, and then I tried baking some on sheets on a very low temp in the oven (just under 200 degrees). Both ways, I flipped the crackers over after they felt dry to the touch on top. They were taste tested by the biggest pellet pain in the butt, Ivory (bare eye too), curious eater Max (blue and gold), and then boys who eat everything - Merlin the Grey and Mali the sennie. So across the board they seem to be pretty well received.

Not an exact recipe, much of what I am doing is just mixing things up, but I am making another batch now and will be doing exact measurements! But these are very forgiving, so not an exact science!

3 cups of pureed veggies such as collard greens, dandelion greens, bok choy, mustard greens, kale, etc (I use the nutribullet and add a bit of water so everything becomes smooth green puree), note the end result is 3 cups of puree
1 cup quinoa
1 cup Roudybush California ground to dust in nutribullet
1/2 cup food grade hulled millet
2 tablespoons bee pollen
1 cup steel cut or Scottish oats
1/2 cup flax seed meal (ground flax seed)
1 cup red raspberry leaf (loose leaf fresh tea works fine)
1/2 cup hemp seeds
2 tablespoons ground cinnamon
1/2 cup whole star anise then ground up thru nutribullet
1 tablespoon curry powder
1 tablespoon turmeric powder
Add tapioca flour (or any flour of your choice) only as needed to reach a texture that is dry but sticks together when pressed

I rolled out 4 trays directly onto the trays in the dehydrator, but the best results are to press these into a cookie sheet / jelly roll pan about 1/2" thick. I put the pans in the oven at the lowest setting (usually around 180 on most ovens). Bake on low for at about 2 hours, the crackers should feel dry to the touch and you can pull out, slice them into strips and flip them over. I used a cooling rack and placed the chunks of crackers on them, so they were on an open rack and back into the oven to allow as much air movement as possible (no pan on the bottom). I then allowed these to bake another hour at the same low temp. These came out completely dry and they break clean much like a cracker, there is no moisture or sticky left at all.

I am working on another round of these that I ordered a bunch of special ingredients for like alfalfa leaves, rosemary oil, whole hulled buckwheat, sesame seeds, etc. But, these are specialty for Max, he is a huge fan of the ones I buy, so excited to try making him these at home and able to mix them up taste wise so he does not get bored with them!!

Thought I would share for anyone else out there looking for alternatives to just processed stuff we buy and having something in the fridge as a backup that is super healthy and great for any day when you run out of fresh veggies or not feeling well and still want your babies to get very healthy nutrition, but not up to chopping veggies. I will be feeding these on a regular basis in addition to 'fresh' (i.e., not baked or dehydrated), but these are wonderful knowing these can truly complete a really well rounded diet!!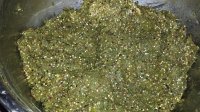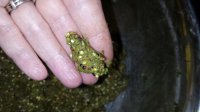 Last edited: